Forgotten Realms speelt zich af in de wereld van Dungeons en Dragons, een game van Wizards of the Coast. De game zal ontwikkeld worden door Stormfront Studios (Lord of the Rings: The Two Towers) en uitgebracht worden door Atari.
In Demon Stone zul je kunnen kiezen uit drie hoofdpersonages. Ze lopen samen rond dus het wisselen tussen personages zal waarschijnlijk gemakkelijk worden. Je kunt zelfs tijdens een gevecht wisselen.

Elk van hun heeft zijn eigen specialiteit. De eerste is goed in vechten terwijl de tweede liever magie gebruikt. De derde is een specialist in het springen en sluipen. Je kunt hun vaardigheden ook verbeteren als ze sterker worden.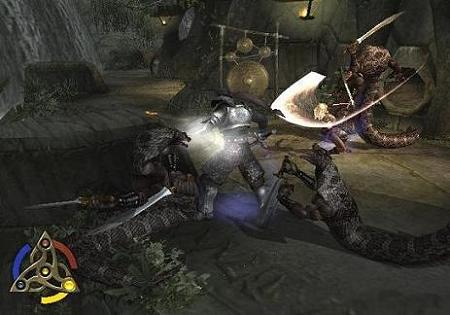 Forgotten Realms ie een Action/RPG en je personages hebben niet alleen wapens tot hun beschikking. De personages kunnen ook magische spreuken gebruiken om de vijand te verslaan.

Hier kun je de trailer van de game downloaden. Forgotten Realms zal tegen het einde van het jaar uitgebracht worden door Atari. De game zal ook op E3 staan en we zullen dan meer informatie kunnen geven.