De vijfde Far Cry is de eerste in de serie die ons naar Amerika brengt, in het fictieve Hope County te Montana is er namelijk een gewelddadige overname in gang gezet door de cultus Project at Eden's Gate. Een avontuur dat nog eens extra uitgebreid kan worden met drie nieuwe avonturen én Far Cry 3.
De Season Pass voegt drie verhalen toe die zich afspelen in uiteenlopende locaties, namelijk:

Hours of Darkness: Ga terug in de tijd, reis naar Vietnam en neem het op tegen Viet Cong-soldaten.
Dead Living Zombies: Neem het op tegen hordes zombies in verschillende B-film scenario's.
Lost on Mars: Verlaat de aarde en strijd tegen spinachtige wezens op Mars.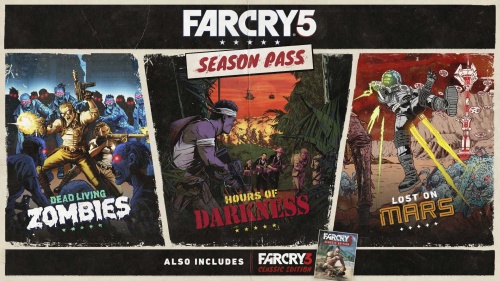 Wanneer je de Season Pass op de PlayStation 4 of Xbox One aanschaft krijg je ook toegang tot de Classic Edition van Far Cry 3. Het betreft de singleplayercontent die je in de zomer van 2018 binnen kunt halen. In de game worden we geconfronteerd met de iconische schurk Vaas en kruipen we in de huid van Jason Brody. PC-gamers die de Season Pass van Far Cry 5 aanschaffen ontvangen de volledige versie van Far Cry 3.