Gedurende PAX East leerden we het bestaan van The Elder Scrolls: Legends - Alliance War kennen. De uitbreiding haalt zijn inspiratie uit de eindeloze oorlog aan allianties die binnen The Elder Scrolls Online heerst en laat ons met meer dan honderd nieuwe kaarten en vijf nieuwe driekleurige House-kaart combinaties spelen.
Bethesda heeft bekend gemaakt dat we niet lang meer hoeven te wachten om ermee aan de slag te kunnen, vanaf 15 april is Alliance War verkrijgbaar op de PC, iOS en Android.




Naast de aankondiging van The Elder Scrolls: Legends – Alliance War is er ook een roadmap onthuld met de aankomende content die fans mogen verwachten in de loop van 2019.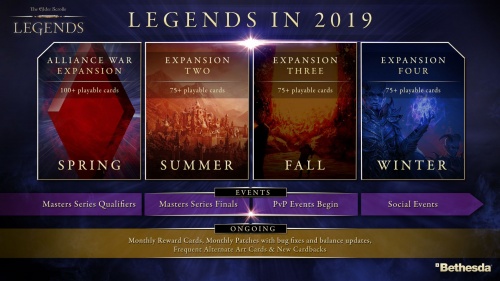 De meta game voert zijn grootste verandering door met de nieuwe uitbreiding en nieuwe mechanics – zoals Mobilize en Empower – met daarnaast vijf nieuwe kaartkleurcombinaties. Fans van Elder Scrolls Online zullen Daggerfall Covenant, de Aldmeri Dominion en de Ebonheart Pact herkennen, maar twee nieuwe facties, de Empire of Cyrodiil en de Guildsworn, maken hun intrede in The Elder Scrolls: Legends – Alliance War:

Empire of Cyrodiil – Willpower, Agility, Endurance
Van de voorgrond verdwenen, klampt the Empire zich vast aan haar laatste restjes macht in het middelpunt van het conflict.
Daggerfall Covenant – Strength, Intelligence, Endurance
Een groepering van Redguard, Breton en Orsimer die erop gebrand zijn om the Second Empire of Men onder het gezag van High King Emeric te herstellen.
Aldmeri Dominion – Intelligence, Willpower, Agility
Altmer, Bosmer en Khajiit-factie die probeert de macht van de Elfen over Tamriel te herstellen.
Ebonheart Pact – Strength, Agility, Endurance
Omstreden bondgenootschap tussen de Dunmer, Nords en Argonians dat ontstaan is uit noodzaak om hun onafhankelijkheid in stand te houden.
Guildsworn – Strength, Intelligence, Willpower
Een coalitie die gevormd is tussen de Fighters Guild en Mages Guild om de inwoners van Tamriel te beschermen van de nevenschade van de oorlog en de Daedrische invasie.