Als iets lekker is wil je er natuurlijk meer van en als het South Park: The Fractured But Whole betreft dan gaat deze uitspraak zeker op. Na het uitspelen van de game was mijn honger nog niet gestild, gelukkig kunnen we met de downloadable content From Dusk Till Casa Bonita het avontuur vervolgen.
Deze DLC is los te koop voor €11,99 en vormt ook onderdeel van de Season Pass die je voor €29,99 op kunt pikken. Eenmaal de game opgestart dien je naar de bushalte te lopen, waarna je af zult reizen naar La Casa Bonita. Dit restaurant, in het Spaans vertaald tot 'mooi huis', kennen we uit de televisieserie als het favoriete restaurant van Cartman. De Mexicaanse eetgelegenheid is het decor voor een verjaardagsfeestje van oppervampier Mike Makowski en zijn volgelingen, tegelijkertijd is het ook de plek waar ze Kenny's zus Karen tegen haar wil in naartoe hebben genomen. Tijd voor onze helden om in actie te komen!




Dit laatste doen we gelukkig niet alleen, we krijgen namelijk al snel hulp van Henrietta Biggle. De kwaliteiten van dit Goth-karakter helpen in het gevecht, hoewel ze – geheel passend bij het karakter – niet van plan is om een kostuum te dragen. Als speler kunnen we terugvallen op de oude klassen, tevens krijgen we de introductie van de Netherborn. Naast het Heckraiser kostuum krijg je toegang tot nieuwe gevechtsmiddelen, waaronder een zeis. Je kunt deze klasse ook meenemen naar de hoofdgame, hetgeen vooral interessant is als je deze nog niet hebt uitgespeeld.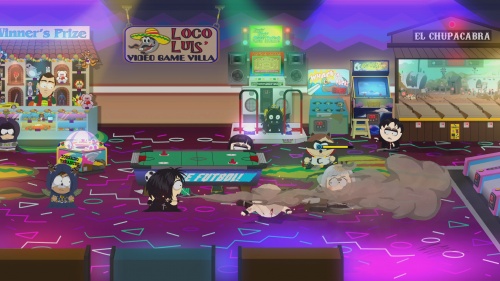 De verhaallijn van From Dusk Till Casa Bonita speelt zich geheel af rondom het restaurant. Hoewel de locatie niet heel groot is heb je er genoeg variatie om dit niet als storend te ervaren. Naast de eetzalen is er een Arcade (waar je onder andere een variant op Flappy Bird kunt spelen), een grot, een VIP kamer en een waterval. In totaal zul je er zo'n twee tot drie uur zoet mee zijn, afhankelijk of je alle omgevingen uit wil kammen. Verwacht gedurende deze tijd geen grootse vernieuwingen ten opzichte van de hoofdgame, in plaats daarvan is het vooral een succesvolle voortzetting van dat wat we reeds kennen. Afgezien van een bijzondere kennismaking op het einde.