Op de Wii kunnen we allerlei nieuwe titels aanschaffen, maar Nintendo biedt ook oude klassiekers aan. In de Virtual Console, een online winkeltje, kunnen we deze oude toppers opnieuw kopen.
Deze games kun je aanschaffen met een puntenkaart van twintig euro, die 2000 punten bevat. Ook kun je via je kredietkaart punten kopen in het zogenaamde winkeltje. Een NES, Master System, Game Gear, Arcade of Commodore 64 spel kost 500 punten. Een TurboGrafx-16 spel kost 600 punten. Een MSX spel kost 700 punten. Een Super Nintendo, TurboGrafx-CD, Arcade of Mega Drive spel kost 800 punten. Een Neo Geo spel kost 900 punten. Een Nintendo 64 spel kost 1000 punten. Deze consoles konden op heel wat steun rekenen en er zijn dus duizenden games verschenen die we later kunnen terugvinden op de Virtual Console. Als je alle games wilt downloaden, zul je dus heel wat geld kwijt zijn. Daarom zullen wij telkens de games die verschijnen, kort bespreken. Hier vind je een volledig overzicht van de verschenen titels. Als je liever een volledig overzicht hebt inclusief teksten kun je altijd deze PDF openen of downloaden. Deze is gemaakt voor je leesplezier en is ideaal om op een rustige dag door te lezen.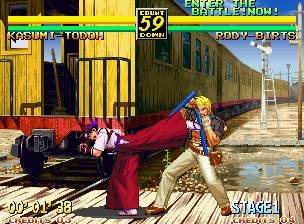 Art of Fighting 3: The Path of the Warrior (Neo Geo): Momenteel is D4 Enterprise druk bezig met het lanceren van oude SNK-games op de Virtual Console. Na Art of Fighting en Art of Fighting 2 lanceert men nu Art of Fighting 3: The Path of the Warrior welke het laatste deel in de serie is. Met Art of Fighting 3 werd bijna de volledige cast van de voorgaande games geschrapt met uitzondering van Ryo en Robert. De nieuwe cast ging gepaard met dezelfde gameplay, zodat het spel nog steeds een aanrader is voor Art of Fighterfans. Andere gamers houden het echter beter bij The King of Fighters, of andere vechtgames van SNK. De game is niet interessant voor minder toegewijde fans.