Op de PlayStation Store plaatst Sony Computer Entertainment Europe regelmatig oude retro-games online zodat PlayStation 3, PlayStation Portable en PlayStation Vita bezitters oude klassiekers opnieuw kunnen beleven.
Oorspronkelijk focuste Sony Computer Entertainment Europe op PlayStation One games, maar momenteel krijgen we een mix van verschillende platforms. Onder andere PlayStation, PlayStation 2 en Neo Geo games worden aangeboden, waarbij de games nieuw tussen €3,49 en €9,99 kosten. De meeste PlayStation en Neo Geo titels zijn speelbaar op PlayStation 3, PlayStation Portable en PlayStation Vita, maar je leest best telkens de beschrijving in de PlayStation Store voor eventuele uitzonderingen. De PlayStation 2 games zijn exclusief op de PlayStation 3 speelbaar. Hier vind je een volledig overzicht van de verschenen titels. Als je liever een volledig overzicht hebt inclusief teksten kun je altijd deze PDF openen of downloaden. Deze is gemaakt voor je leesplezier en is ideaal om op een rustige dag door te lezen.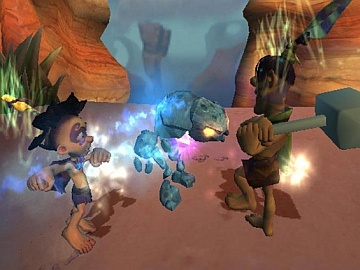 Tak and the Power of JuJu (PlayStation 2): Begin 2004 lanceerde THQ het spel Tak and the Power of JuJu op verschillende platformen, waaronder de PlayStation 2. De platformer werd een hit bij het jonge doelpubliek en kreeg uiteindelijk drie vervolgen en een eigen televisieserie. Typisch gezien zegt zoiets weinig over de effectieve kwaliteit van een spel, maar in dit geval is het het bewijs van een tevreden doelpubliek. The Power of JuJu wist namelijk te scoren bij kinderen dankzij een interessant universum, een leuk hoofdpersonage, creatieve puzzels en oude vertrouwde gameplay. Met Tak and the Power of JuJu geen Jak and Daxter of Ratchet and Clank, maar een degelijke platformtitel voor de jongste PlayStation 3 gamers.