Uitgever THQ Noridc heeft bekend gemaakt dat Sphinx and the Cursed Mummy, The Book of Unwritten Tales 2 en The Raven Remastered begin 2019 naar de Nintendo Switch zullen komen voor een bedrag van €29,99.
Sphinx and the Cursed Mummy is een 3rd-person actie avontuur geďnspireerd door de mythologie van het oude Egypte. Reis over de wereld, via magische portals, om de kwaadaardige plannen van Set te dwarsbomen. De reis vereist Sphinx's vaardigheden, behendigheid en speciale krachten. Hij zal ook moeten vertrouwen op zijn onwillige vriend, de Mummy, om te helpen wanneer hij onopvallend moet zijn. Door de gestolen magische kronen van Egypte te vinden, kan Sphinx Set stoppen en de wereld redden.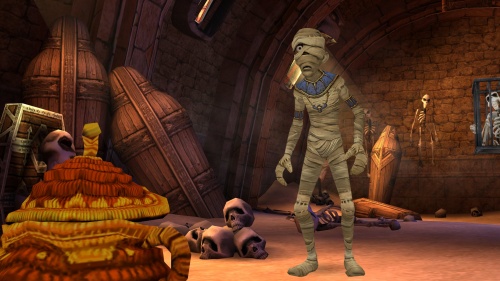 In The Book of Unwritten Tales 2 bestuurt de speler vier verschillende karakters in een liefdevol gecreëerde fantasiewereld, waarin moeilijke logica puzzels opgelost moeten worden in een klassieke point-and-click stijl. Het opwindende verhaal en de gebruikelijke BoUT humor met talloze knipogen naar fantasie elementen en kleurrijke personages garanderen meer dan 20 uur speelplezier.




Londen, 1964. Een oude robijn is gestolen uit het British Museum. Op de plaats delict: een ravenveer. Probeert iemand in de voetsporen te treden van The Raven, de legendarische meesterdief, die jaren daarvoor verdwenen was? In The Raven Remastered bevindt Inspecteur Anton Jakob Zellner zich in het midden van het soort moordmysterie dat hij tot nu toe alleen kende van het lezen van zijn favoriete misdaadromans. Niets is wat het lijkt. Iedereen heeft iets te verbergen. En de Raaf is iedereen altijd een stap voor ...