De Poolse indie-ontwikkelaar Awesome Games Studio boekte in 2014 succes op Steam met hun originele zombietitel I, Zombie. In plaats van aan zombies te ontkomen ben je in deze titel juist de gevaarlijke zombie. Het is aan jou om de levenden te veranderen in metgezellen voor een dodelijke revolutie. Een revolutie die met een recente uitgave op de Nintendo Switch nu overal kan plaatsvinden.
De basis van I, Zombie is erg toegankelijk. Je bestuurt één zombie en beweegt deze in de richting van levende NPC's. Deze NPC's komen in twee soorten: vluchtende burgers en bewapende soldaten. De burgers zijn gemakkelijk te grijpen, deze rennen namelijk weg in de tegenovergestelde richting van jouw aanlooproute. Als ze tegen een muur aanlopen zullen ze niet plots een andere kant op bewegen, zodat ze gemakkelijk te transformeren zijn. Eenmaal van hun gezondheid ontdaan worden zij een zombie. Medezombies kun je op drie manieren aansturen: volgen, stilstaan en aanvallen. Met eenmaal genoeg medezombies of een goed uitgekiende tactiek kan je bewapende NPC's proberen aan te vallen. Elk gericht schot maakt een zombie langzamer totdat deze opnieuw sterft, zodat de kracht hiervan toch vaak in aantallen komt. Het zorgt voor een uitdagende puzzel gameplay, waarbij timing en inzicht een belangrijke rol spelen.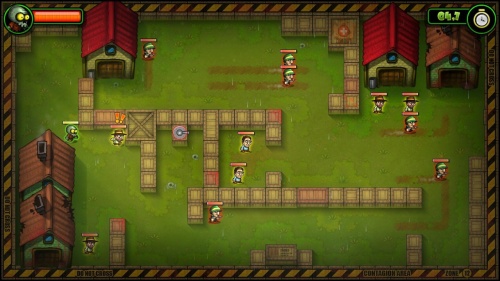 Het is door de hierboven genoemde elementen dat de game erg vermakelijk is. De gameplay is simpel, maar vereist je wel om tactisch na te denken over je aanpak. Doordat met één druk op de knop het level te resetten is loont het tevens om eens rigoureus te experimenteren als het even niet lukt. Doordat de levels qua grootte beperkt zijn ben je meestal maar een paar minuten bezig. Er zijn echter een beperkt aantal levels in de game geďntegreerd, zodat je binnen een uur alle door de ontwikkelaar ingebrachte content hebt gespeeld. Gelukkig is er daarna de map editor om mee te spelen, waardoor je zelf nog lang kunt door knutselen om eigen levels te creëren. Deze kun je online publiceren, waar je dus ook de levels van anderen kunt spelen en beoordelen. Zodoende is I, Zombie erg vermakelijk, maar helaas van erg korte duur. Of de game de €4,99 dan ook waard is, is afhankelijk van in hoeverre je graag zelf creatief aan de slag gaat en levels van andere spelers wilt spelen.