De laatste tijd doken er twee geruchten op. De eerste was dat ontwikkelaar Rocksteady aan een Superman titel zou werken, de tweede dat dit project zijn onthulling zou krijgen bij The Game Awards. Twee geruchten die beiden niet waar bleken te zijn.
Middels een Tweet liet Rocksteady enkele dagen geleden weten dat ze uit kijken naar The Game Awards maar dat ze er geen aankondiging zullen doen. Om er een spoiler aan toe te voegen: ze werken niet aan Superman.



Daar waar er twee geruchten afgeschoten zijn werpt WB Montreal assistant producer Valerie Vezina er meteen weer een nieuw gerucht de wereld in. Via Twitter deelt ze onderstaande foto van de achterkant van haar T-Shirt, een logo dat doet denken aan The Court of Owls uit Batman. Kijken oordeel zelf.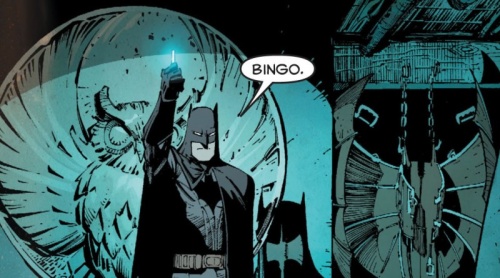 Ook Warner Bros. Montreal zal overigens niet aanwezig zijn bij The Game Awards, ook van hun hoeven we dan ook geen onthullingen te verwachten.