Tijdens de E3 Showcase 2018 heeft Square Enix details aangekondigd over de speciale edities van Dragon Quest XI: Echoes of an Elusive Age, de nieuwste titel in de role-playing game-franchise.
De "Edition of Lost Time" komt in beperkte oplage beschikbaar in de Quare Enix Online Store en bij een select aantal retailers. Deze speciale editie verrijkt het avontuur met diverse schatten, inclusief:

De "Edition of Light"-versie van de game voor de PlayStation 4. Inclusief Supplicant, een accessoire met de kracht om magic points te herstellen, Healer, een accessoire met de kracht om hit points te herstellen en 3 keer een Seed of Skill, een verbruikbaar item dat spelers extra skill points oplevert.
Companion Compendium – een 128-page hardback artbook met concept art en vroege ontwerpen van de beroemde artist Akira Toriyama.
Symphonic Suite – een set van 2 discs met orkestversies van de in-game music.
De Map of Erdrea – een stoffen landkaart van 50 x 38 cm.
Een verzamelbare Steelbook-hoes.
Digitale bonuscontent – Inclusief Pep Pop, een drankje dat alle actieve bondgenoten direct versterkt, en nog 15 Seeds of Skill, die spelers extra skill points geven.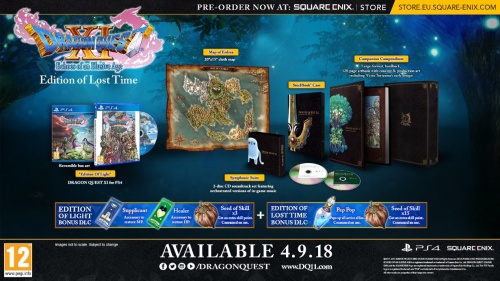 De fysieke Day One "Edition of Light" is nu bij een select aantal retailers beschikbaar als pre-order voor de PlayStation 4, en wordt geleverd met een omkeerbare hoes met illustraties van Akira Toriyama. Spelers die de game pre-orderen via de PlayStation Store ontvangen het "The Legend Reborn"-thema en in-game DLC-voorwerpen. Fans die de game op voorhand aanschaffen op Steam ontvangen een exclusieve wallpaperset en in-game DLC-items.