Vanaf 20 maart kunnen we onze innerlijke piraat ontdekken door vriendschappen te sluiten, de woeste zeeën te bevaren en schatten te plunderen in Sea of Thieves. Om nog meer in de piratensfeer te komen kun je al voor deze datum een gelimiteerde controller in huis halen die ook nog eens licht geeft in het donker!
De paarsdiepe controller heeft namelijk een doorschijnend design en laat de schedel oplichten. Wanneer je het spel in de pre-order zet via de website van Microsoft krijg je tevens de exclusieve in-game Ferryman Chlothing Set DLC, veertien dagen Xbox Live Gold en nieuwe abonnees krijgen tevens veertien dagen toegang tot Xbox Game Pass. Via deze dienst krijg je toegang tot meer dan honderd Xbox, Xbox 360 en Xbox One games, waaronder Halo 5: Guardians, Metal Gear Solid V: The Phantom Pain, Gears of War 4 en Ninja Gaiden Black.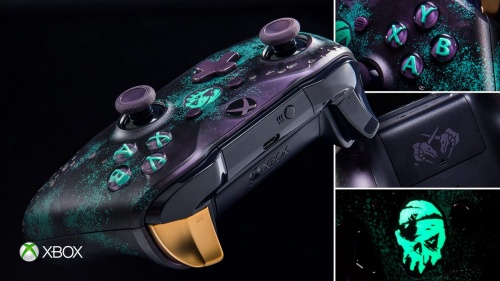 De Sea of Thieves controller heeft tot wel twee keer zoveel draadloos bereik in vergelijking met vorige controllers van de Xbox One S-console en is via Bluetooth ook te gebruiken op Windows 10 PC's en tablets. De Impulse Triggers laten je de actie in je vingers voelen en iedere willekeurige, compatible headset met een 3,5-mm stereoheadsetaansluiting kan aangesloten worden. Ook een optie voor knoptoewijzing is aanwezig en te gebruiken door de Xbox Accessoires-app te downloaden voor de Xbox One en Windows 10.

De controller is vanaf 15 februari verkrijgbaar voor een bedrag van €69,99 en kan nu al in de pre-order worden gezet. De verzending is, evenals het eventueel retourneren, geheel gratis.