In navolging van de Nintendo Wii en de Nintendo 3DS biedt de Nintendo Wii U de mogelijkheid om oude games opnieuw te beleven met de Virtual Console. In de Virtual Console kan de gamer geselecteerde klassiekers opnieuw aanschaffen.
Momenteel bestaat de mogelijkheid om oude Wii Virtual Console-games rechtstreeks op de Nintendo Wii U te spelen in Wii Mode, maar met de Wii U Virtual Console biedt Nintendo ons nu ook de kans om de games in de Wii U eShop aan te kopen. De Wii U-versies van de Virtual Console-games maken gebruik van de unieke features van de Wii U zoals OffTV Play en Miiverse zonder extra meerkost ten opzichte van hun Wii en 3DS releases. Gamers die bepaalde games reeds op de Wii bezitten, krijgen zelfs de kans om de spellen tegen een lagere prijs opnieuw te kopen op de Wii U Virtual Console. Gamed bespreekt wekelijks de nieuwe releases zodat je weet welke games de aankoop waard zijn ondanks de grote stroom aan releases van de vele ondersteunde consoles. Een volledig overzicht vind je in onze Virtual Console PDF of in dit artikel.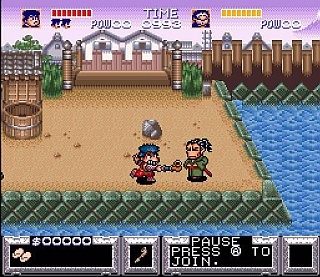 Legend of the Mystical Ninja (SNES): De naam van deze game zegt je waarschijnlijk niet veel, maar in Japan is dit spel onder de naam Goemon een succes. Deze Action/Adventure laat je in de huid kruipen van Kid Ying en Dr. Yang, zij trekken er samen op uit om een prinses te redden. Elk level bestaat uit twee delen. Eerst moet je in een stadje minigames spelen, voorwerpen kopen, aanvallen leren, je voorbereiden dus eigenlijk. Dan komt er een platformgedeelte waar je gewoon tot het einde moet raken in simpele Super Mario World stijl en daar een baas verslaan. Dit was redelijk uniek uitgewerkt en zorgde ervoor dat Goemon een culthit werd. De moeite waard om te proberen, zeker dankzij de co-op.