Op de Wii kunnen we allerlei nieuwe titels aanschaffen, maar Nintendo biedt ook oude klassiekers aan. In de Virtual Console, een online winkeltje, kunnen we deze oude toppers opnieuw kopen.
Deze games kun je aanschaffen met een puntenkaart van twintig euro, die 2000 punten bevat. Ook kun je via je kredietkaart punten kopen in het zogenaamde winkeltje. Een NES, Master System, Game Gear, Arcade of Commodore 64 spel kost 500 punten. Een TurboGrafx-16 spel kost 600 punten. Een MSX spel kost 700 punten. Een Super Nintendo, TurboGrafx-CD, Arcade of Mega Drive spel kost 800 punten. Een Neo Geo spel kost 900 punten. Een Nintendo 64 spel kost 1000 punten. Deze consoles konden op heel wat steun rekenen en er zijn dus duizenden games verschenen die we later kunnen terugvinden op de Virtual Console. Als je alle games wilt downloaden, zul je dus heel wat geld kwijt zijn. Daarom zullen wij telkens de games die verschijnen, kort bespreken. Hier vind je een volledig overzicht van de verschenen titels. Als je liever een volledig overzicht hebt inclusief teksten kun je altijd deze PDF openen of downloaden. Deze is gemaakt voor je leesplezier en is ideaal om op een rustige dag door te lezen.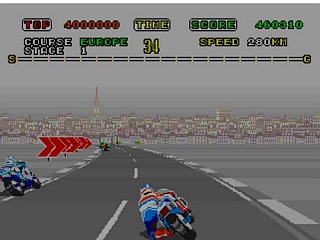 Super Hang-On (Arcade): In 1987 lanceerde SEGA de arcadegame Super Hang-On welke een vervolg was op het bekende Hang-On. In de game kruipt de speler opnieuw op een motor, ditmaal om te racen op vier verschillende tracks waarbij elke track bestaat uit meerdere stages. In totaal zijn er zo'n vijftigtal stages waarmee de game duidelijk uitgebreider is dan het origineel. Op deze stages dienen we zo snel mogelijk te racen, waarbij snelheden van meer dan 300 kilometer per uur bereikt kunnen worden. Veilig het einde van deze stages bereiken wordt echter een andere uitdaging. Spijtig genoeg heeft SEGA ervoor gekozen de minder uitgebreide arcadeversie op de Virtual Console te zetten in plaats van de consoleversie die meer modes bevat. Desondanks blijft Super Hang-On een aanrader voor racefanaten.