De games van Artifex Mundi draaien eigenlijk allemaal om hetzelfde en Persian Nights: Sands of Wonders is hier geen uitzondering op. Een miniem verhaal, opvallende karakters en een interessant decor vormen de setting terwijl de gameplay vooral bestaat uit het oplossen van puzzels.
Persian Nights: Sands of Wonders verscheen vorig jaar op de PC en is nu uitgebracht voor de PlayStation 4, Nintendo Switch en Xbox One, verzorgd door ontwikkelaar So Digital. Ze hebben prima werk verricht met deze overzetting, zo speelt de game soepel en werden er nergens problemen ondervonden. Heel raar is dit overigens niet, een game als deze vraagt immers niet veel van de systemen en er is ook besloten om de lippen niet te laten bewegen als de karakters praten. Daarover gesproken; de karakters hebben sowieso weinig verdieping gehad. Het verhaal draait om de koning Badiya die ziek geworden is en zo geen weerstand kan bieden tegen de gemene Grand Vizier Zaved. Hier bovenop is er ook nog eens een ziekte uitgebroken en de toekomst ziet er dan ook niet al te zonnig uit. Gelukkig zijn er de apotheker Tara, de zwaardvechter Darius en djinn Minu om redding te brengen. Hoewel Darius nog enige achtergrond krijgt als karakter is dit voor de anderen niet het geval. Dit is de stemacteurs niet te verwijten, zij leveren stuk voor stuk goed werk.




Dit stand-alone verhaal is eenvoudig in diens opzet en daardoor prima te volgen. Kijken we naar de gameplay dan zien we geen grootse veranderingen als we het vergelijken met andere games van de studio. Het draait vooral om het oplossen van diverse puzzels, denk aan het zoeken van objecten binnen een plaatje of combineren van items om verder te kunnen komen. Hoewel niet erg moeilijk – het betreft hier mogelijk de makkelijkste game in de uitgebrachte reeks – zijn er wel momenten waarbij de logica ontbreekt. Mocht je hierop vastlopen of simpelweg wat hulp willen ontvangen dan is er een hintsysteem die je in kunt schakelen.

Als we dan toch een vergelijking trekken met de voorgaande games dan zien we dat het aantal Hidden Object puzzels iets naar de achtergrond is verdwenen. Omdat Tara een apotheker is zijn er puzzels bedacht die draaien om het werken met diverse drankjes en medicijnen. Overige puzzels draaien om kleurgebruik of bijvoorbeeld het schuiven met blokken om een item te ontgrendelen. Al te vernieuwend is dit niet, wel is het leuk dat getracht is om wat meer verdieping aan te brengen. Zo zijn er bijvoorbeeld combatpuzzels die zich in meerdere fasen afspeelt. Je dient te anticiperen op de tegenstander door uit symbolen te kiezen, moet een volgorde van orbs op een exacte wijze overnemen of orbs juist in een zelfde kleursamenstelling brengen.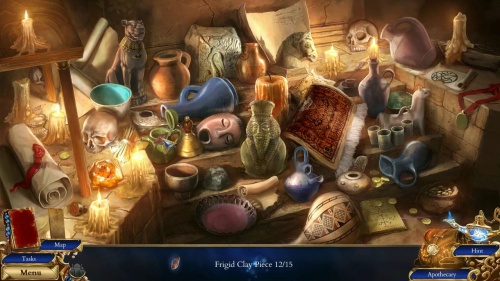 Met de Perzische achtergrond krijgen we vooral een kleurrijke game die schittert in diens artworks, daarentegen zijn de animaties van een minder sterk niveau. Ook de spelduur valt wat tegen, met zo'n vier tot zes uur speeltijd is het duidelijk de minst lange game die we tot nu toe gespeeld hebben van Artifex Mundi. Hier komt bij dat er, in tegenstelling tot veel van de vorige games, geen bonushoofdstuk aanwezig is om de tijdsduur nog wat op te rekken. De enige manier om meer uit de game te halen is om alle collectibles te vinden, waarvan er in iedere scene één verstopt zit. De ontwikkelaar komt je hierin wel tegemoet door reeds behaalde collectibles uit de game te halen zodat je enkel jacht hoeft te maken op de missende.