Na Sonic Mania mogen we uit kijken naar Sonic Mania Plus, een versie die SEGA de 'definitieve versie' noemt. Vandaag leren we dat deze nieuwe uitgave op 17 juli zal verschijnen voor de Xbox One, PlayStation 4 en Nintendo Switch.
Deze vernieuwde uitgave bevat twee nieuwe speelbare personages uit eerdere Sonic games, namelijk Mighty the Armadillo en Ray the Flying Squirrel. Eveneens nieuw is de Encore-stand die zorgt voor een frisse kijk op vertrouwde zones, met nieuwe uitdagingen en lay-outs voor zowel nieuwe als ervaren spelers. De Competition- en Time Attack-standen krijgen een update om ze geschikt te maken voor vier spelers, terwijl de Time Trials Ghost-uitdagingen krijgen. Dit alles wordt geleverd in een gloednieuwe fysieke editie met een verzamelboek van 32 pagina's, een omkeerbare SEGA Mega Drive-hoes en holografische verpakking.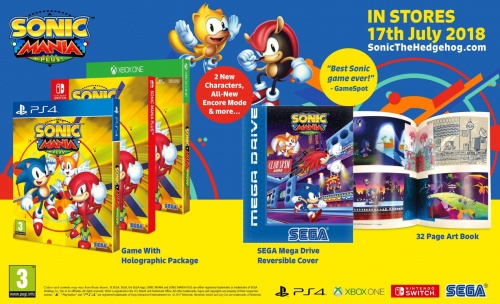 Spelers die de originele digitale versie van Sonic Mania op consoles en pc hebben gekocht, kunnen hun game upgraden naar Sonic Mania Plus. Daarvoor kunnen ze vanaf 17 juli 2018 voor €4,99 het Encore DLC-pakket aanschaffen.