Square Enix heeft vandaag bekend gemaakt dat The Quiet Man vanaf 1 november verkrijgbaar is voor de PC en PlayStation 4. Het spel zal digitaal worden uitgebracht voor een bedrag van €14,99.
The Quiet Man neemt spelers mee naar een wereld voorbij geluid, voor een verhaal gedreven, filmachtige ervaring die in één sessie voltooid kan worden. Het verhaal ontvouwt zich gedurende een enkele nacht. Spelers nemen de rol aan van Dane, die niet kan horen. Hij vecht zich een weg door een 'geluidloze' wereld om te ontdekken wat er schuilgaat achter de ontvoering van zangeres Lala door een mysterieuze gemaskerde man.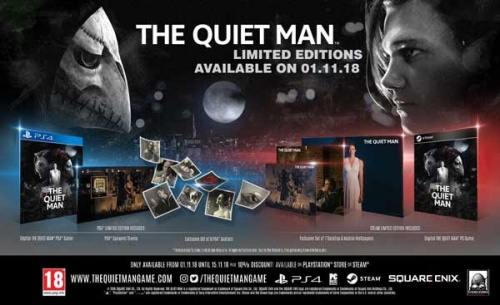 Wie de game tussen 1 en 15 november aanschaft in de PlayStation Store ontvangt de game, een dynamisch thema en een set van acht PlayStation Network-avatars. Wie in dezelfde periode de game aanschaft op Steam ontvangt naast de game een set van zeven wallpapers voor bureaublad en mobiele telefoons. Daarnaast krijgen spelers in deze periode 10% korting op de game, ongeacht het platform.