Met Shadow of the Tomb Raider keert Lara Croft terug in een game die veelal is opgezet uit de facetten die we van de game bekend zijn, denk aan schieten, puzzelen en het verkennen van de omgeving. Door de moeilijkheidsgraad in te stellen bepalen we hoe lastig deze onderdelen zijn, waarbij we vandaag leren op welke manier dit beďnvloed zal worden.
Door diverse opties aan te bieden kun je zelf bepalen hoe lastig je het jezelf wil maken door de game in te stellen op Easy, Normal, Hard of voor degene die een echte uitdaging zoeken; Deadly Obsession. Laatstgenoemde optie laat ons de moeilijkheidsgraad niet langer aanpassen aangaande de puzzels, traverse en combat en een kleine uitzetting van de opties is als volgt:

Easy – Aim assist will be enabled and enemies will have lower health, which will make them easier to kill and do less damage to Lara. Ammunition boxes are plentiful giving you the options to always have enough on you at all times, plus enemies will have illuminated silhouettes making them easier to spot.
Normal – Enemies will have normal health and damage this time around and ammunition boxes are rare, so make every shot count! Enemies will still have illuminated silhouettes, the same as in easy.
Hard – Enemies will have increased health now making them a little trickier to floor and with this, they'll do more damage and locate Lara more quickly. There will be no health regeneration in combat and ammunition boxes are rare. No hit markers on the reticle and enemies are not highlighted in Survival Instincts, time to get your sneak on and eyes peeled!
Deadly Obsession – For the player looking to sweat a little. Deadly Obsession is the same as hard, but this time you will have no HUD icon when Lara is being detected by an enemy. This could be extremely interesting or extremely nerve-wracking!
Ook aangaande het exploreren in de game heeft het kiezen van de moeilijkheidsgraad een uitwerking:

Easy
- Obvious white paint on a critical path
- Longer saving grab timer
- Base camps are lit

Normal
- Discreet white paint on a critical path
- Normal saving grab timer
- Base camps are unlit

Hard
- No white paint on a critical path
- Reduced saving grab timer
- No Survival Instincts during exploration
- Base camps are unlit

Deadly Obsession
- Same as Hard
- Base camps are unlit and require resources to light
- The game only saves at Base camps

De gekozen moeilijkheidsgraad heeft ook zijn invloed op de puzzels. Op Easy zal Lara hints krijgen over wat er van haar verwacht zal worden, zo zullen interactieve objecten oplichten in de Survival Instincts mode. Objecten die benodigd zijn om je weg te vervolgen lichten op in het blauw en acties die gebaseerd zijn op tijd geven je meer ruimte om deze te voltooien. Verder krijg je meer hints aangaande de puzzels. Kies je voor een hogere moeilijkheidsgraad als Hard of Deadly Obsession dan zul je alles zelf uit moeten vogelen en krijg je geen hints, zo ook minder tijd om je acties te doen.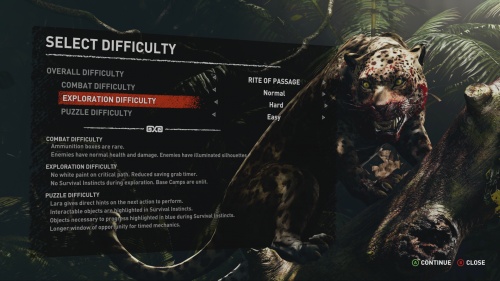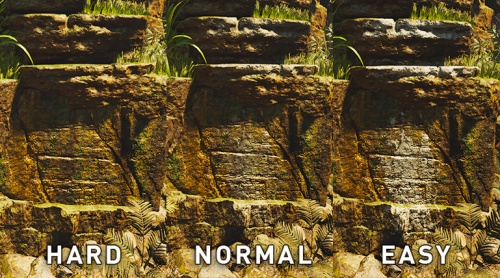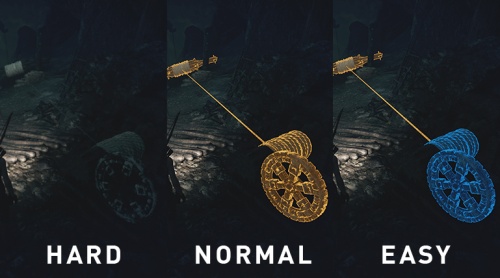 In ander nieuws rondom de game is er een trailer naar buiten gebracht die zich richt op het exploreren onder water.