Met The Hobbit en Lord of the Rings wist J.R.R. Tolkien niet alleen indrukwekkende boeken te schrijven, ook de verfilmingen werden enthousiast ontvangen. De bijhorende games hebben een minder iconische status weten te bereiken, toch kon het in 2014 verschenen Middle-earth: Shadow of Mordor op veel goedkeuring rekenen.
Tussen The Hobbit en Lord of the Rings zit een tijdspanne van zestig jaar en het is precies in dit gat waarin Shadow of Mordor zich afspeelde. Aan het begin zien we de familie van Talion vermoord worden door het leger van Sauron onder aanvoering van de Black Hand. Zijn doel is om samen te gaan met de oude meester van de Elven, Celebrimbor, echter weet deze op het laatste moment op te gaan in het lichaam van Talion waarmee hij zijn afslachting voorkomt. Een wraaktocht begint en (spoiler alert) aan het einde weten ze de Black Hand te verslaan op het moment dat Sauron deze als zijn fysieke vorm gebruikt. Het gevecht tegen Sauron is hiermee allerminst ten einde, het spel sluit namelijk af met de intentie van Talion om een nieuwe Ring of Power te smeden.




Het origineel maakte vooral indruk vanwege diens Nemesis systeem. De hiërarchie van vijanden werd op de achtergrond bijgehouden en was behoorlijk dynamisch. Stel dat een Orc je wist te vermoorden dan zou het zomaar kunnen dat hij bij een volgende ontmoeting was gepromoveerd tot een Warchief die je nog even pijnlijk herinnert aan je eerdere falen. In Shadow of War gaat de ontwikkelaar nog een stap verder met het systeem, hetgeen ze nu Nemesis 2.0 noemen. Niet alleen moeten de individuele Orcs beter uitgewerkt worden qua persoonlijkheid, je kunt nu ook Overlord, Warchiefs en Captains voor je eigen leger laten vechten of ze op missies sturen, waarna ze in level zullen stijgen. Het is de verdieping die we graag verwelkomen binnen een sequel.

Eén van de kritiekpunten van Shadow of Mordor was dat de setting wat eentonig was. De twee hoofdgebieden waren behoorlijk gelijkend en wisten nergens echt te verrassen. Met deze sequel wil ontwikkelaar Monolith Productions dit doorbreken met veel meer diversiteit, zowel qua omgeving - die nu drie keer zo groot is – als de nederzettingen waar de Orcs zich in bevinden. Hoe groter deze forten, hoe meer hulp Talion kan gebruiken om ze over te nemen. Tegelijkertijd is er natuurlijk het gevaar dat je verworven manschappen het onderspit delven en dus is het verstandig om van tevoren de rolverdeling goed te bepalen. Met ieder fort dat je over weet te nemen zet je namelijk een stap dichterbij een Overlord, de heerser van een provincie die weer onder Sauron staan.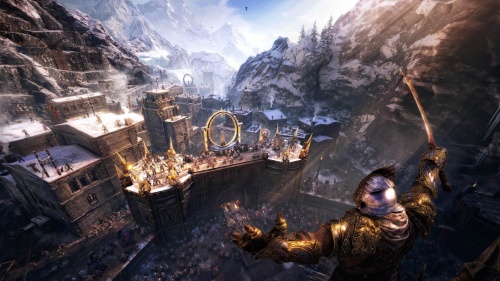 Ook op ander gebied tracht de ontwikkelaar iets meer verdieping aan te brengen in het concept. Talion kan nu bijvoorbeeld verschillende kleding dragen die de nodige voordelen met zich meebrengt en passend is bij verschillende situaties. Minder hoorbaar zijn tijdens het sluipen of meer resistentie tegen gevaarlijke gassen zijn hier twee voorbeelden van. Andere vernieuwingen vinden we in het kiezen van een moeilijkheidsgraad, daar waar het origineel deze keuze niet had, en ditmaal kun je missies die niet nog eens starten nadat je hier eerder in faalde, waarmee er een extra druk op de speler komt te liggen. Middle-earth: Shadow of War lijkt door al deze punten vooral voort te borduren op de succesformule van drie jaar geleden, of dit voldoende is om daadwerkelijk van een succesvolle sequel te kunnen spreken leren we vanaf 10 oktober.