Hoewel de Nintendo Wii U niet het succes was wat Nintendo voor ogen had wist het wel enkele leuke exclusives te scoren. Eén van deze namen was LEGO City Undercover en sinds afgelopen week verviel de vereiste om de console te hebben, het spel werd namelijk ook uitgebracht op de PC, PlayStation 4, Nintendo Switch en Xbox One.
In LEGO City stappen we in de schoenen van Chase McCain. Deze agent wist de crimineel Rex Fury twee jaren geleden achter slot en grendel te krijgen en nu zijn rivaal is ontsnapt zal hij de klopjacht wederom moeten openen. In totaal zijn er vijftien missies om je in dit doel te doen slagen, wil je echter alles uit de game halen dan is er nog veel meer te doen. Met een stad aan je voeten zijn er overal Studs te vinden om nieuwe dingen mee te kopen, waaronder nieuwe personages waarvan sommigen speciale gaven hebben. Een kluis is bijvoorbeeld enkel open te breken met het breekijzer van een inbreker, een mijnwerker beschikt over explosieven en een astronaut heeft een jetpack. De wereld is verder ingevuld met een breed scala aan missies waarmee je de welbekende Gold Bricks verkrijgt.





Geheel nieuw in deze uitgave is de mogelijkheid om missies coöperatief te spelen. Hoewel je bij de verhalende missies redelijk op elkaar aangewezen bent kun je in de stad geheel je eigen weg gaan. Is een vriend bezig om Studs te verzamelen? Dan zal niets je weerhouden om een andere kant op te gaan om bijvoorbeeld een racemissie aan te vangen. Dit alles is doorspekt met een flinke dosis humor, inclusief verwijzingen naar bijvoorbeeld Titanic en The Shawshank Redemption. En zoals we van de LEGO games gewend zijn is zowel de humor als de gameplay geschikt voor jong en oud zodat je ook dit deel weer gerust met je jongere broertje, zusje of kind kunt spelen.

Met de overzetting vanaf de Nintendo Wii U zien we weinig toevoegingen. Er is bijvoorbeeld geen extra content ontwikkeld en op audiovisueel vlak zien we enkele kleine verbeteringen, bijvoorbeeld in diens belichting. Het maakt de game er niet slechter en ook niet beter op, wat betekent dat je het spel niet nogmaals hoeft aan te schaffen als je deze reeds eerder hebt gespeeld. Wellicht door deze overzetting zijn de laadtijden ietwat aan de lange kant en ook een oud probleem van de LEGO titels keert terug. Er waren enkele momenten waarop objecten niet verschenen, een bouwwerk niet goed in elkaar kon worden gezet of het karakter vast kwam te staan waardoor een missie soms opnieuw gestart diende te worden. Een pijnpunt waar de ontwikkelaar ook al in eerdere LEGO games mee kampte. De laatste verandering is dat de functies die aan de Wii U Gamepad waren gekoppeld nu onder de vierpuntsdruktoets zijn samengebracht. Een prima manier om snel toegang te krijgen tot de mogelijkheden die het spel weet te bieden.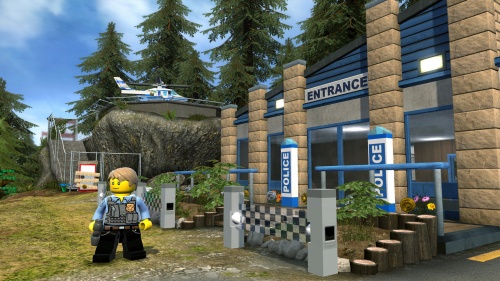 Als je niet te zwaar tilt aan de eerder benoemde minpunten en de voorgaande LEGO games met plezier hebt gespeeld zal LEGO City Undercover je zeker bevallen. De open wereld geeft met zijn verschillende districten voldoende ruimte om op ontdekking te gaan en als je geen zin hebt om deze afstanden te voet af te leggen zijn er voldoende voertuigen om je mee te verplaatsen. De nieuwe coöperatieve functie zorgt er verder voor dat het spel ideaal is om met een kind te spelen, al te moeilijk zal het namelijk nergens worden. Mocht je de game eerder hebben gemist dan is dit de ideale manier om het verhaal van Chase McCain alsnog te beleven.