De Britste studio PaperSeven brengt deze week hun eerste titel op de markt. Ze doen dit met een indrukwekkend verhaal die ook na het uitspelen nog wel even door je gedachte blijft spoken, terwijl de gameplay vooral in het teken staat van de vertelling hiervan. Welkom bij Blackwood Crossing.
Scarlett en haar jongere broertje Finn zijn wezen en aan het begin van de game bevinden ze zich in een trein. In haar slaap hoort Scarlett iemand roepen en ze besluit het geluid te volgen. Plotseling springt haar broertje tevoorschijn om haar schrik aan te jagen, waarna de twee al spelend verder de trein in gaan. Al snel blijkt echter dat er iets raars aan de hand is. Andere passagiers zijn schimmen van hun evenbeeld, voorzien van maskers en lijken vast te zitten in de realiteit. Maar is dit wel de realiteit? Is het geen droom of juist een nachtmerrie? En hoe kan het dat de trein soms ineens ruimte lijkt te bieden voor geheel andere locaties?




Het zijn dit soort vragen die je voortdurend bezig houden tegen een achtergrond van gevoelens als verdriet en rouw. We leren namelijk al snel dat de jongere Finn moeite heeft met zijn opgroeiende zus. Na zijn ouders verloren te hebben en bij hun grootouders te zijn opgegroeid is zij altijd zijn steun en toeverlaat geweest. Nu zit ze echter in een leeftijd waarin jongens en mode haar levensstijl gaan bepalen. Niet alles in de game zal je overigens worden aangedragen. Er is ruimte voor persoonlijke interpretaties, zonder dat ze alles bij de speler neerleggen. Dat je in de ervaring wordt gezogen komt ook door de stemacteurs die ieder van de karakters op natuurlijke wijze tot leven laten komen.

Door de sterke nadruk op het verhaal is de gameplay ietwat naar de achtergrond gebracht. Het is een lineaire ervaring waarin je in een juiste volgorde moet praten met karakters, items op moet pakken, wat kleine puzzeltjes op dient te lossen of een Quick Time Event moet doorlopen. Verder kun je soms een keuze maken hoe je reageert hoewel dit geen verdere invloed heeft op het verloop. In vele games zou dit als minpunt genoteerd worden, hier staat het echter in dienst van het verhaal. De drie uur die ik kwijt was om dit verhaal te doorlopen vlogen voorbij. Dit aantal is weliswaar ietwat kort voor de zestien Euro wat je dient te betalen, tegelijkertijd zou het oprekken ervan waarschijnlijk geen betekenisvolle bijdrage hebben gehad. Enig minpunt dat te noteren valt is dat Scarlett wat sloom loopt. Daar waar de oplossing van een puzzel veelal al duidelijk is kan het irriteren als je belemmert wordt door haar looptempo.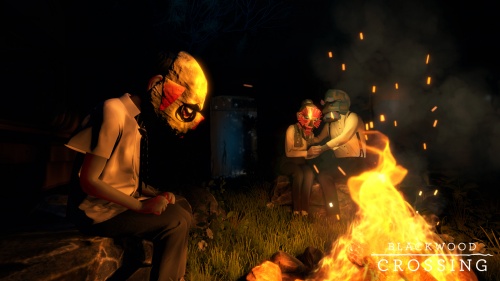 Blackwood Crossing is een ervaring die me nog wel even bij zal blijven. De verhaalvertelling is sinister maar kent zeker ook enige luchtigheid. Wat hier aan bijdraagt is de muziek die steeds de juiste toon weet te raken, van zacht en rustig tot duister als de situatie erom vraagt. De conversaties zijn verder goed geschreven en grafisch heeft het iets weg van een sprookje waarin ook donkere elementen niet geschuwd worden. Om dit ten volle te ervaren moet je er wel tegen kunnen dat Blackwood Crossing misschien niet zozeer een game is in termen van gameplay. De betrokkenheid van de speler is niet al te groot en dat wat je doet staat in dienst van de vertelling. Zie je dit niet als een probleem dan is de aanschaf zeker het overwegen waard.