Naast de officiële hardware van Sony zien we ook diverse andere partijen die accessoires op de markt brengen. Eén van deze namen is Dragon War die recentelijk de Dragon Shock 4 Wired Gamepad op de markt bracht voor de PlayStation 4.
Wanneer we de Gamepad van Dragon War naast een officiële Sony controller leggen vallen een aantal dingen op. Wat direct in het oog springt, of beter gezegd; juist ontbreekt, is het touchpad. Om dit op te vangen zijn er een tweetal Enter-knoppen toegevoegd. Beide knoppen fungeren op een zelfde wijze, echter is het niet langer mogelijk om op het touchpad te tekenen. Wat eveneens opvalt is de opdruk van de face buttons. In plaats van het traditionele driehoekje, vierkantje, rondje en kruisje zien we een herbewerking die er nog wel iets van weg heeft, maar verder enkel qua kleur overeen komt. Dit is iets om rekening mee te houden als je de knoppen niet blindelings weet te vinden en bijvoorbeeld snel moet handelen bij een Quick Time Event.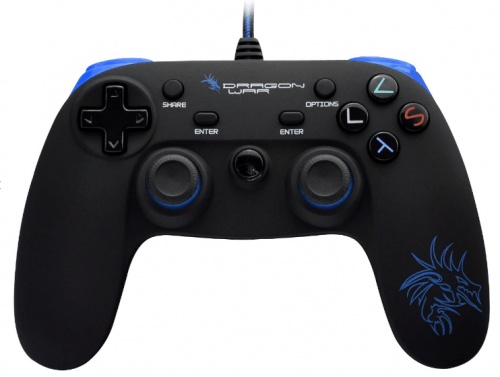 Omdat het een Wired controller betreft is deze niet draadloos te gebruiken, gelukkig is het drie meter lange snoer in veel huishoudens voldoende om dit niet als een probleem te zien. Waar wel rekening mee gehouden dient te worden is dat er geen aansluiting aanwezig is voor een koptelefoon. Op dit vlak heeft de officiële controller duidelijk een streepje voor. Op ander vlak weet de Dragon War controller het daarentegen te winnen. De Triggers geven net wat meer controle omdat ze wat gevoeliger zijn. Dit moet niet verward worden met het missen van een stukje stevigheid, hier leveren ze namelijk niets op in vergelijking met Sony's hardware. Qua grootte is de Dragon Shock 4 Wired Gamepad net iets kleiner. Ideaal voor gamers, zoals ondergetekende, met niet al te grote handen. Het gewicht is ongeveer identiek en door zijn non-slip ligt de controller prima in de hand.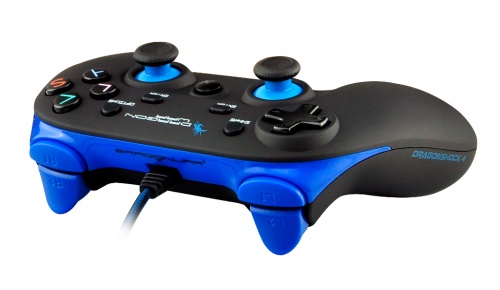 Met zijn verkoopprijs van veertig Euro is de Dragon Shock 4 ongeveer vijftien Euro goedkoper dan de officiële tegenhanger van Sony. Een prima bedrag voor hetgeen wat het te bieden heeft. Verwacht geen uitgebreide functies, in plaats daarvan is het een ietwat uitgeklede versie die direct klaar is voor gebruik middels plug and play. Zoek je dan ook een controller omdat je af en toe een spelletje speelt of juist een tweede controller die je vrienden op kunnen pikken voor een potje FIFA of andere coöperatieve of multiplayer titels dan doe je er een goede aankoop mee. Ben je daarentegen een competitieve speler dan is het verstandig om iets meer geld uit te geven om het gemis van een touchpad en een snoer op te vangen.