Later deze maand verschijnt WWE 2K18 en eerder belichtte 2K al de MyCareer Mode. Vandaag staan twee andere modi centraal, namelijk Universe Mode en Road to Glory.
Universe Mode is een broadcasting ervaring die je volledig naar eigen inzicht aan kunt passen. Met de WWE Superstars en je eigen gecreëerde personages kun je zelf een show opzetten, of dit nu Raw, Smackdown Live of NXT is. De worstelaars komen terecht in een Power Ranking en deze bepaalt wie het op mag nemen tegen de titeldragers gedurende pay-per-views als Wrestlemania. Je kunt deze matches zelf spelen of als toeschouwer alles aanschouwen.

Universe Mode laat je ook rivaliteiten bouwen tussen de worstelaars. Deze solistische of teamrivalen komen terecht in verhaallijnen, inclusief cutscenes en unieke scenario's.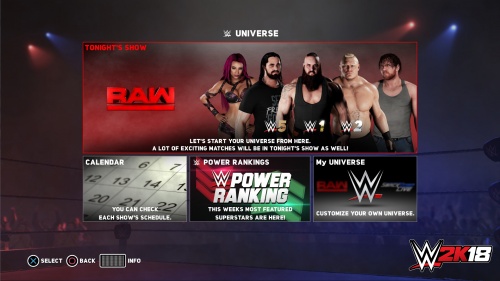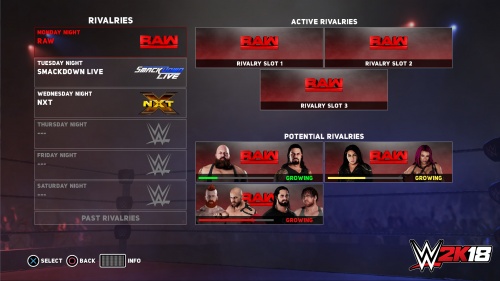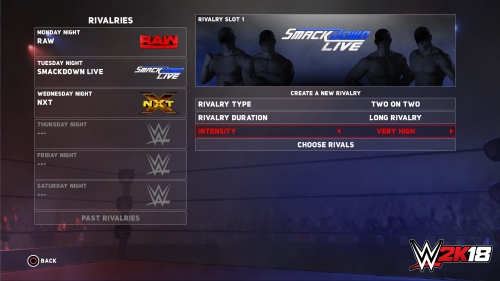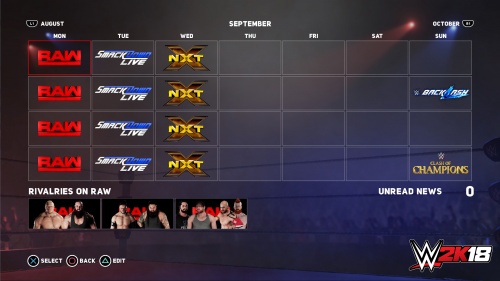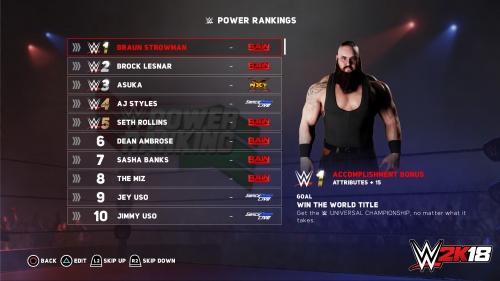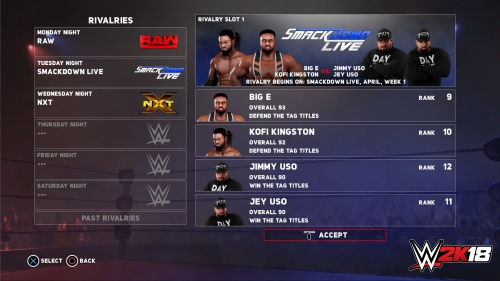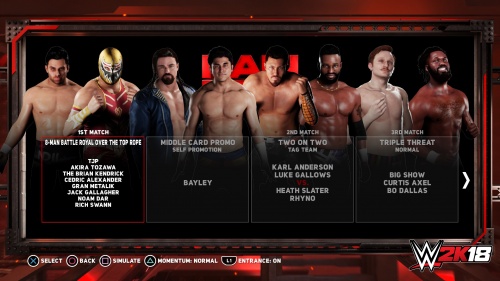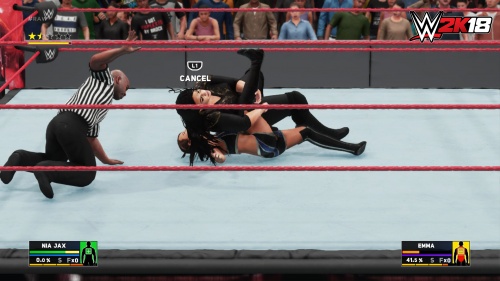 Creatieve spelers kunnen terecht in MyPlayer om aldaar hun unieke Superstar te creëren. Je kunt onder andere diens gevechtsstijl, gewichtsklasse, naam, verschijning en meer aanpassen. In de MyPlayer Mode komen we tevens Road to Glory tegen, een online ervaring waarin spelers hun eigen gecreëerde Superstars mee de ring in nemen en vechten voor een pay-per-view spot. Om je karakter verder uit te breiden verdien je hier sterren, boosts, onderdelen en virtueel geld.

Iedere 24 uur is er een Tonigt's Event, een dagelijkse match die verschillende matchtypes kan bedragen. De arena waarin je speelt is gebaseerd op de dag, speel je bijvoorbeeld op een maandag dan stap je in een Raw ring en een dag later is dit de Smackdown ring. Wanneer er op de dag zelf geen WWE programmering is vult de game dit zelf in en kun je bijvoorbeeld klassiek gaan met WCW Monday Nitro. Wanneer je een spot weet te verkrijgen op de pay-per-view en deze ook nog eens weet te winnen krijg je een Superstar Part, gebaseerd op de show.