De Koreaanse studio Devespresso Games bracht twee jaar geleden The Coma: Cutting Class op Steam uit. Blijkbaar vonden ze dat hun werk een nieuw likje verf niet zou misstaan en dus komen ze nu met een remaster die ze ook naar de Xbox One en PlayStation 4 brengen.
Velen van ons zullen het nog herkennen of mogelijk is het iets wat nog op je staat te wachten: examens. Een stressvolle tijd en op Sehwa High is dit niet anders. Voor student Youngho betekent het goed afronden van zijn examens een zorgeloze zomervakantie en dus besluit hij een nachtje door te halen en zo de stof tot zich te nemen. Een goed voornemen, ware het niet dat hij al snel in slaap valt en zich bijna verslaapt. Terwijl hij zich naar school haast ziet hij een ambulance voor de poort geparkeerd staan en leert hij dat een student zelfmoord heeft getracht te plegen. Mogelijk werd de stress van de examens deze student teveel. Eenmaal binnen lopen we enkele medeleerlingen tegen het lijf en komen we al snel de rondborstige lerares Ms. Song tegen. Een knappe verschijning en het is dan ook niet gek dat Youngho een oogje op haar heeft. Helaas hebben we niet al te lang de tijd om van haar genieten, er moet immers een examen gemaakt worden. Als je echter wakker kunt blijven.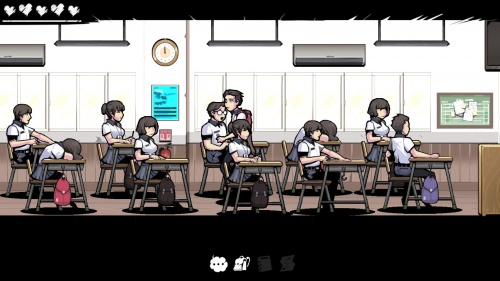 Dit laatste blijkt een probleem te vormen. Met de examenpapieren voor de neus valt Youngho in slaap en ontwaakt hij in een donkere dimensie van de school. Het hoe, wat en waarom is waar de vier tot vijf uur durende game vervolgens om draait. Rustig de tijd nemen om tot antwoorden te komen is er niet bij aangezien een demonische versie van Ms. Song het op je voorzien heeft. Met een mes probeert ze je te belagen en de enige optie is om weg te rennen en te verschuilen in de kasten en toiletten tot ze weer verdwijnt. De eerste keren slaagt de ontwikkelaar erin om je te laten schrikken, ondersteunt door geluiden die een rilling over mijn rug lieten lopen. Helaas blijft de game terugvallen op dit soort momenten, waardoor het verrassingseffect er na enige tijd wel vanaf is.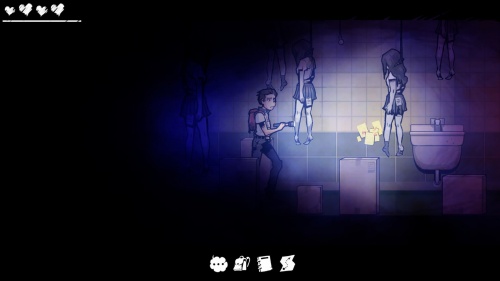 Naast het ontwijken van de lerares ben je vooral bezig om te achterhalen wat er nu precies aan de hand is. Via notities leer je meer over de gebeurtenissen, terwijl je studenten tegen komt die je voornamelijk middels fetch-missies tracht te helpen. Hoewel dit alles zich binnen een school afspeelt is de ontwikkelaar erin geslaagd om de omgevingen te laten variëren en zodoende afwisselend aan te laten voelen. Hierbij is gekozen voor een anime-achtige uitstraling die goed past bij de verhaalvertelling. Al te lastig is de game niet, mede omdat een teken op de map aangeeft waar je naartoe dient te gaan. De game had nog iets meer tot leven kunnen komen als de karakters ingesproken waren. Het had voor mij zelfs een plus geweest als ze dit in de Koreaanse taal hadden gedaan, Koreanen die Engels praten zouden je immers uit de ervaring halen. Door de verschillende eindes is er enige herspeelbaarheid aanwezig maar ook het eenmaal doorspelen van The Coma: Recut is zeker het aanraden waard. Als je althans niet hoeft te leren voor een examen.