Wanneer je honger na Dishonored en diens sequel nog niet gestild is kun je sinds vorige week aan de slag met Dishonored: Death of the Outsider. Het betreft een standalone DLC die draait om een verhaallijn die eigenlijk al in de titel verstopt zit.
Ditmaal spelen we niet als Corvo Attano of Emily Kaldwin maar als Billie Lurk. Deze dame kennen we als de kapitein van het schip The Dreadfule Wale uit Dishonored 2 en tevens als protegé van Daud. Van haar oude meester krijgt ze een opdracht mee die de hoofdlijn vormt voor het verhaal in de game. De bovennatuurlijke The Outsider, die velen in de eerdere delen van hun unieke gaven heeft voorzien, moet sterven. Om hierin te doen slagen dien je een speciaal mes te bemachtigen en daarmee hebben we het verhaal eigenlijk wel gehad. Inhoudelijk heeft het dan ook niet veel om het lijf, hoewel enige voorkennis toch vereist is om alles met elkaar te kunnen verbinden en motieven beter te kunnen plaatsen. Nu is het zeker geen straf om Dishonored 2 te spelen en dit hoeft dan ook zeker niet als een kritiek te worden opgevat.




Veel van de bekende recepten uit de eerdere titels gaan op herhaling in Death of the Outsider. Ook nu hebben we hierdoor de vrijheid om te handelen naar eigen inzicht. Wil je geruisloos door de levels gaan of juist als een olifant in een porseleinkast afrekenen met iedere vijand? De ene mogelijkheid is niet beter dan de andere maar vooral een kwestie van persoonlijke voorkeur. Het Chaos systeem dat hiermee samen ging is nu geheel afwezig waardoor de noodzaak voor stealth grotendeels verdwenen is. Tegelijkertijd is dit opgevangen middels de zogeheten contracts. Het zijn extra opdrachten die de speler kan accepteren. Te denken valt aan het stelen van een item, ongezien blijven of juist iedereen uitmoorden. Op deze manier zal de speler toch worden uitgedaagd om verschillende speelstijlen uit te proberen.

Billie Lurk kan in haar jacht op The Outsider terugvallen op diverse kwaliteiten die enkele kleine afwijkingen hebben ten opzichte van eerder geziene exemplaren. Blink is bijvoorbeeld vervangen door Displace. Niet alleen kun je teleporteren naar een andere locatie, je laat ook een geestesverschijning achter waar je snel naar terug kunt keren. Het is zelfs mogelijk om je in een vijand te verplaatsen, waarna deze op sierlijke wijze uit elkaar spat. Met Foresight treed je buiten het lichaam en kun je een situatie verkennen, rekening houdend met een meter die langzaam leeg loopt. Als laatste is er nog een speciale vermelding voor Semblance. Billie kan tijdelijk de identiteit van een ander over nemen zodat je bijvoorbeeld een groep vijanden kan passeren zonder op te vallen. Het totaal aan verschillende kwaliteiten zorgt voor een goede mix maar is helaas niet verrassend. De enige aanpassingen van je krachten vinden we in de te verzamelen Bone Charms, echter gaat het dan enkel om kleine toevoegingen als het kortstondig onzichtbaar zijn na het gebruik van Displace. Wat we wel waarderen is dat je Void energie, hetgeen benodigd is om je kwaliteiten in te zetten, ditmaal automatisch zal worden bijgevuld.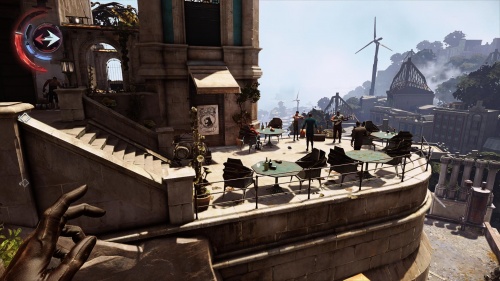 In totaal zijn er een vijftal missies die je moet voltooien en hoewel dit op papier magertjes klinkt zitten ze allen vol detail en ben je er al snel acht tot tien uur mee bezig. De oplettende speler ontdekt hints die later gebruikt kunnen worden en hoort bewakers en burgers met elkaar praten over het leven. Billie, die voortreffelijk is ingesproken door Rosario Dawson, heeft zelfs de gave om met ratten te praten om ook op deze manier aanwijzingen te verkrijgen. De ontwikkelaar heeft verder getracht om de herspeelbaarheid te verhogen door een Original Game+ optie te introduceren. Je speelt weliswaar nog altijd de verhaallijn van Death of the Outsider, maar je kunt gebruik maken van Blink, Domino en Dark Vision uit Dishonored 2.

Als standalone vervolg voor een adviesprijs van dertig Euro doet Dishonored: Death of the Outsider weinig verkeerd, mits je geen grote veranderingen verwacht. Een nieuwe protagonist die voorheen enkel een bijrol had zorgt niet voor andere gameplay en het is duidelijk dat dit geen volwaardig vervolg is in termen van vernieuwingen. Tegelijkertijd is het hiermee ideaal voor mensen die Dishonored een warm hart toedragen en er simpelweg meer van willen.