Met Parascientific Escape: Crossing at the Farthest Horizon heeft uitgever Circle Entertainment het slotstuk van de visual novel trilogie Parascientific Escape naar Europa gebracht. De titel is voor vijf euro uit de Nintendo eShop te halen, maar is dit literaire avontuur jouw tijd en geld wel waard?
Mogelijk ben ik niet met de meest ideale insteek aan Parascientific Escape begonnen. Eerdere delen heb ik niet gespeeld en eigenlijk wist ik niet wat ik kon verwachten. Ik was dan ook verheugd dat ik bij het opstarten werd begroet met de mogelijkheid om een uitgebreide proloog te volgen. Hierin zouden verschillende karakters, locaties en andere belanghebbenden uit het lopende verhaal aan de nieuwkomer worden geďntroduceerd. Helaas slaagde de game er niet in om hier een overtuigende indruk achter te laten. Op het bovenste scherm van je 3DS is er plaats voor drie regels tekst, naast een impressiegevend artwork. Hier gaan al direct twee dingen fout. Ten eerste is er geen plaats om een fatsoenlijke hoeveelheid tekst te plaatsen, zodat in plaats van fijn door te lezen nu continu op een knopje moet drukken. Ten tweede veranderd het artwork tijdens een episode zelden, zodat je al snel afvraagt wie er nu aan het spreken is of waar er nu eigenlijk over wordt gepraat. De illustraties bieden dan ook weinig houvast.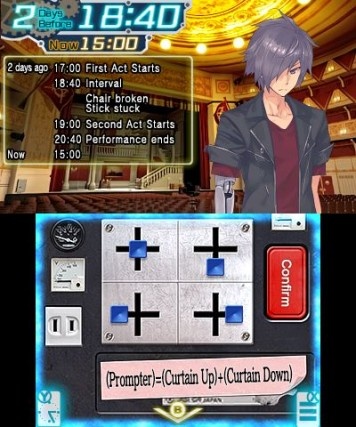 Het bovenste zou geen grote hinder zijn als het verhaal enigszins boeiend was om te volgen. Op geen enkel punt heb ik mij echter aangesproken gevoeld. De teksten zijn levenloos geschreven en staan op flinke afstand van werkelijke menselijke interacties. Deze statische constructie weet je aandacht dan ook slecht vast te houden. De vele taalfouten maken het er niet beter op. Gelukkig is er meer dan enkel te lezen. De game kent ook enkele 'Escape Rooms'. Dit zijn puzzelruimtes waarin je verschillende onderdelen uit de omgeving moet zoeken en deze met andere zaken moet combineren om verder te geraken. Als je er even niet uitkomt kun je gemakkelijk een hint opvragen, zodat je uiteindelijk de soms toch we lastige uitdagingen weet te voltooien. Graag had ik meer focus op dit puzzelelement gezien en minder op de verhaalvoortgang. Mogelijk zie je dit anders als je al wel eerder de twee andere games hebt gespeeld. Op zichzelf is Parascientific Escape: Crossing at the Farthest Horizon echter verre van een aanrader en doe je er goed aan nog eens verder te kijken.