Voetbal, basketbal en ijshockey zijn rijkelijk vertegenwoordigd in de game-industrie. Zo nu en dan maken we eens een uitstapje op een skateboard of pakken we het tennisracket maar de surfplank binden we niet zo heel vaak onder. En toch is dit nu net waar Surf World Series om draait.
Omdat deze game arcade en simulatie met elkaar vermengt is het verstandig om eerst de tutorial te doorlopen en je de controls eigen te maken. Je leert al snel de golven te bedwingen, hoe je het bord vast moet houden en hoe je trucjes aan elkaar rijgt. Terwijl je dit alles doet bouw je een meter op die je toestaat om de beste en grootste trucs uit te halen, er vanuit gaande dat je dit combineert met genoeg snelheid en het drukken op de juiste knoppen. Doe je dit niet dan verlies je al snel je balans en zul je kostbare tijd verliezen en daarmee gepaard meer punten. Gelukkig kun je terecht in de Free Surf mode om aldaar rustig te oefenen in één van de vijf locaties die zijn gebaseerd op echte plaatsen. Het gaat om Supertubos (Portugal), Bell's Beach (Australië), Jeffreys Bay (Zuid-Afrika), Waimea Bay (Hawaď) en Cacimba do Padre (Brazilië). De kans dat je echter zult genieten van deze locaties is niet heel groot, je bent vooral gefixeerd op het water en neemt de omgeving voor lief.




Aan content heeft Surf World Series in ieder geval geen gebrek. Er zijn vijf toernooien die oplopen in moeilijkheidsgraad en zijn onderverdeeld in diverse uitdagingen. In Set List dien je specifieke acties te voltooien, in Big Battle zal het gemiddelde uit twee runs je score vormen, in Championship moet je een vooraf bepaalde score dienen te behalen en bij Survival moet je het einde van een golf zien te bereiken zonder van je board af te vallen. Genoeg variatie en je kunt het ook nog eens online opnemen tegen anderen en de leaderboards trachten te bestijgen. Of dit echter voldoende is voor een bedrag van 14,99 Euro zal per speler verschillend zijn. De één zal het immers als te eentonig ervaren, terwijl het voor de ander een ideaal tussendoortje kan zijn.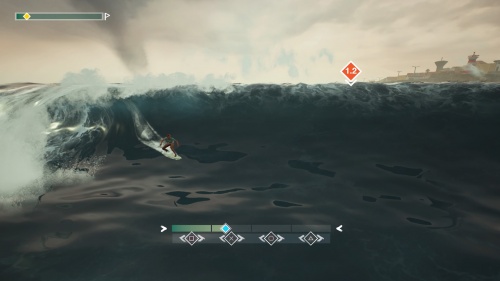 Om Surf World Series wat persoonlijker te maken had het leuk geweest als je een eigen surfer kon creëren. In plaats daarvan kies je nu voor een basismodel dat je verder uit kunt breiden door verworven in-game items als Bermuda shorts. Daar waar ik in het begin nog bezig was om deze kleding en ook het surfboard aan te passen liet ik het al snel voor wat het was, mede omdat het geen invloed heeft op statistieken en enkel betrekking heeft op visueel vlak. In dat opzicht doet de game verder ook niets verkeerd, zonder echt te schitteren. Het water ziet er mooi uit maar zoals eerder gezegd voegen de verschillende omgevingen verder weinig toe omdat je geen tijd hebt om van het uitzicht te genieten. De soundtrack is prima verzorgd met verder niet veel meer dan het water om naar te luisteren. Het maakt Surf World Series tot een leuk uitstapje binnen het sportgenre die exact doet wat je ervan verwacht; je een surfer wanen zonder nat te worden.