Overleven op Mars is geen gemakkelijke klus. Dat is althans wat The Martian mij momenteel probeert te bewijzen. Astronaut Mark Watney – gespeeld door Matt Damon – had het echter nog gemakkelijk. Hij werd niet geconfronteerd met de Lovecraftiaanse horror waarmee ik moest afrekenen in Moons of Madness.
Rock Pocket Games laat ons in deze ambitieuze avonturengame voor PC, PlayStation 4 en Xbox One aan de slag gaan als astronaut Shane Newart die op Mars aan wetenschappelijk onderzoek doet. Het is wat eenzaam maar conversaties met zijn begeleider op Aarde zorgen toch voor wat afleiding, zeker als het gaat over een vergelijking van de Rolling Stones met David Bowie. Geen doorsnee klus om te bepalen wie de beste muziek leverde. Zijn dagelijkse taken op ruimtebasis Trailblazer Alpha worden echter grondig verstoord wanneer er plots een probleem opduikt met de zonnepanelen. Het is een gigantisch mysterie hoe dat kon gebeuren, zeker omdat één van de zonnepanelen zijn batterijen kwijt is en een ander half vernield, maar het is gelukkig gemakkelijk te verhelpen met behulp van wat je in je omgeving vindt.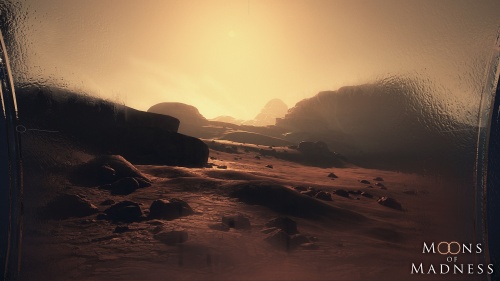 Enige hindernis zijn korte storingen die Newart ondervindt tijdens dit proces. Even afgeleid door een foto van zijn vrouw, even afgeleid door een korte elektrische interferentie, … en waar komt plots die hele grot vandaan die er vijf seconden geleden niet was? Op dit moment – een Zone Out genoemd – komt de Lovecraftiaanse psychologische horror naar voren. In deze demo nog redelijk eenvoudig. Het volstond het pad te volgen en verbaasd te zijn door de opvallende dingen die ik hier beleef. Rock Pocket Games kiest hier niet echt voor 'jump scares'. Hoewel ik er wel met eentje te maken kreeg gaat het vooral om de interpretatie van wat je ziet. Gebeurt dit echt? Of is Shane gewoon gek aan het worden? Het is iets wat me eigenlijk aan de verschijningen van Dead Space deed denken.

Er is echter wel één belangrijk verschil. In Dead Space werd ik nog geconfronteerd met monsters tussen deze verschijningen door, dat is hier niet het geval. Moons of Madness is een avonturengame, geen actiegame. Misschien denk je dan eerder aan Alien Isolation waar je het monster ook niet kon bekampen, enkel kon overleven. Maar zelfs dat lijkt hier niet de bedoeling. Moons of Madness is net zoals Lovecraft's At the Mountains of Madness een verhaal van mentale gezondheid waarbij de horror teveel wordt voor de menselijke psyche. Hoe ga je nu eenmaal om met iets dat je niet begrijpt? En hoe weet je dat wat je ziet echt is als je in een compleet geďsoleerde wereld zit, of dat nu zoals in het boek de zuidpool betreft of zoals in de game Mars.





De demo die ik kon spelen op Gamescom mag gezien worden als een gestroomlijnd geheel. In een half uurtje kreeg ik zowel een belangrijke puzzel – het afstellen van de zonnepanelen – als een horrorstuk voorgeschoteld. In de finale game zou men echter gaan voor een geheel dat eerder leunt op de puzzels en de horrorelementen die wat meer gespreid zijn. Deze demo brengt alles simpelweg samen omdat men met deze zelfde demo eveneens uitgevers probeert te overtuigen geld te steken in de ontwikkeling. En mij zou het alvast overtuigen dat te doen. Moons of Madness lijkt een sterke game te worden, eentje die ons doet denken en ons op interessante manier doet spelen met psychologische aspecten. Wanneer de game komend jaar verschijnt, reis ik dus zeker terug naar Mars.