Gisteravond leerden we dat PlayerUnkown's Battleground eind dit jaar naar Xbox Game Preview komt, waarbij Microsoft als uitgever voor de game zal fungeren. De grote vraag is wat dit voor een eventuele PlayStation 4 versie betekent.
Ontwikkelaar Bluehole werd dan ook op Twitter om duidelijkheid gevraagd, maar het gesprek dat volgde schept eerder nog meer onduidelijkheid dan dat we antwoorden krijgen.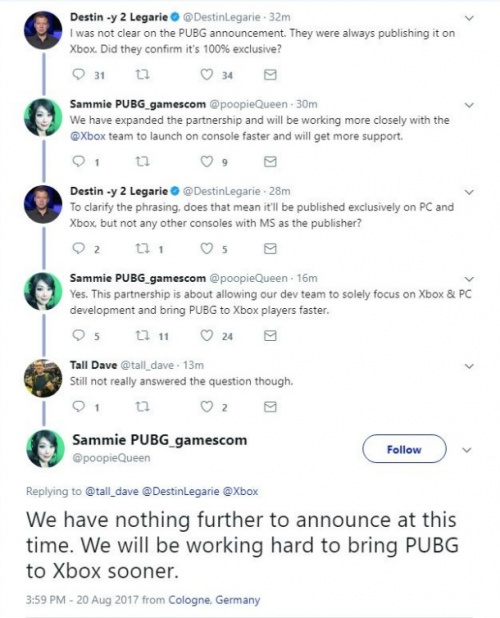 Navraag bij Microsoft geeft eveneens geen betere uitleg, zij reageren namelijk als volgt:

quote:

---

"As we announced at E3, "PLAYERUNKNOWN'S BATTLEGROUNDS" will be a console launch exclusive on Xbox One and right now, the development team is solely focused on bringing the best game possible on Xbox One and PC. We have nothing further to announce at this time."

---

Het lijkt ons dat PlayerUnknow's Battleground op een later moment ook naar de PlayStation 4 zal komen, honderd procent duidelijkheid blijft echter vooralsnog uit.