Ontwikkelaar Bloober Team had met Layers of Fear enkele interessante ideeën die helaas iets teveel in herhaling vielen om te kunnen blijven boeien. Met Observer kiezen ze voor een andere insteek die je van het begin tot eind vast weet te grijpen.
2084, Krakau, Polen. Een gebeurtenis onder de naam 'digitale plaag' heeft duizenden slachtoffers geëist en de overlevenden zijn niet veel beter af dan de doden. Als een vorm van ontsnapping richten ze zich tot drugs en megacorporatie Chiron besluit de controle in het land over te nemen. Eén van hun eerste acties is het opzetten van de Fifth Polish Republic, een eenheid van de politie die Observers worden genoemd. Zij krijgen speciale middelen aangereikt waarmee ze in de gedachten van mensen kunnen kijken om zo hun verleden en angsten bloot te leggen. Eén van deze Observers is Daniel Lazarski die aan het begin van de game een telefoontje krijgt van zijn zoon Adam. Mogelijk is hij in gevaar en dus ga je naar het appartementencomplex waar het telefoontje gepleegd werd en begint een even bizar als interessant verhaal.




Alvorens we verder in gaan op de game is het goed te weten in welke categorie Observer te plaatsen valt. Net als bij Layers of Fear hebben we te maken met een walking simulator waarin er weinig ruimte is voor actie maar des te meer voor onderzoek. De hoofdpersoon heeft hier verschillende hulpmiddelen voor, zo kan hij met de Electromagnetic Vision elektronische apparaten scannen, middels Bio Vision biologische bewijzen achterhalen en heeft hij een Dream Eater om de gedachten van mensen binnen te treden. Met name dit laatste bezorgt de speler een trip binnen droomachtige, intense en soms zelfs angstige omstandigheden die je lang zullen heugen. Het zijn momenten waarin de muren ineens compleet afbreken en je van de ene naar de andere herinnering zult worden geslingerd. Hoewel de kritiek aan te voeren valt dat ze – net als bij Layers of Fear – wat veel in dezelfde vijver blijven vissen qua gameplay is het dermate indrukwekkend dat het geen moment verveelt.

Tijdens het onderzoek dat Daniel Lazarski pleegt vervagen de lijnen tussen realiteit en de droomwerelden en zul je je als speler regelmatig afvragen wat er nu precies aan de hand is. De game is hierbij redelijk on-rails, hoewel er ook enige ruimte is voor verkenning, onderzoek en conversaties. Het hoofdpersonage is ingesproken door onze eigen Rutger Hauer, hetgeen zowel een zegen is als een vloek. Zijn rauwe stemgeluid onderstreept op het ene moment de sfeer en op een volgend moment is hij nauwelijks verstaanbaar. Qua audio is het één van de weinige kritieken die we op kunnen tekenen aangezien de drukkende sfeer perfect is bijgestaan door de soundtrack en geluidseffecten.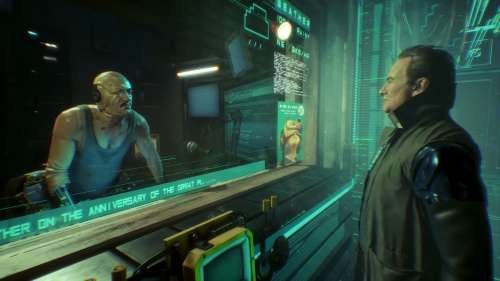 Qua gameplay is er daarentegen nog wel een puntje van kritiek te vermelden. In bepaalde secties gaat de game over in stealth en moet je uit de klauwen blijven van een niet te stoppen monster. Deze momenten zijn gelukkig spaarzaam, alsof de ontwikkelaar ze enkel toegevoegd heeft voor de variatie. Op papier is dit te begrijpen omdat de game redelijk rechtlijnig is en weinig variatie kent, echter maken de sfeer en de locaties dermate veel indruk dat we het dit makkelijk kunnen vergeten. Bloober Team heeft dan ook geleerd van hun fouten en met een duur van zes tot zeven uur is de lengte ook precies goed om de verveling niet toe te doen slaan.