Ontwikkelaar The House of Fables bracht vorig jaar hun puzzelgame Eventide: Slavic Fable naar de Xbox One en volgt dit nu op met de sequel, Sorcerer's Mirror. Al te verrassend is de game niet te noemen, dit neemt echter niet weg dat puzzelfans weer aan hun trekken komen.
Net als bij het origineel eist botanist Mary Gilbert ook nu de hoofdrol op, hoewel hiermee direct alle connecties met het vorige deel ophouden, waarmee het ook ideaal is voor nieuwkomers. Aan het begin van deze game is ze aan het bergbeklimmen met haar nichtje tot het noodlot toeslaat. Niet omdat ze naar beneden valt, maar omdat een tovenaar onder de naam Tvardovsky haar ontvoert vanwege de gelijkenis met zijn overleden vrouw. Al snel ontdek je zijn snode plannen waarin ook een dorp centraal staat waar experimenten worden uitgevoerd door de geesten van de overledenen aan hun geliefden te laten verschijnen middels het gebruik van een magische spiegel.




Het bovenstaande klinkt als de ideale opzet voor een spannend verhaal maar dit valt in de praktijk toch wat tegen. Daar waar het origineel leunde op de Slavische cultuur (vandaar ook de naam Slavic Fable) is dit hier grotendeels losgelaten, op de verschijningen van enkele magische figuren na. Tegelijkertijd zijn het natuurlijk de puzzels die een centrale rol innemen en deze worden onderverdeeld in drie varianten. Er is het klassieke 'hier is een lijst en vind de genoemde elementen in een zoekplaatje', een variatie waarin je het juist vanaf plaatjes moet zien te vinden of je dient een bepaald aantal van één object te achterhalen. De eerste gebruik je om specifieke items te vinden, de tweede om items te vinden die je moet combineren om verder te komen en de laatste draait om het vinden van ingrediënten waarmee je dingen kunt craften. Om iets meer variatie te geven zijn er nog collectibles in de vorm van spiegels en Imp kaarten. Het is allemaal bekende kost voor spelers die bekend zijn met de titels van uitgever Artifex Mundi.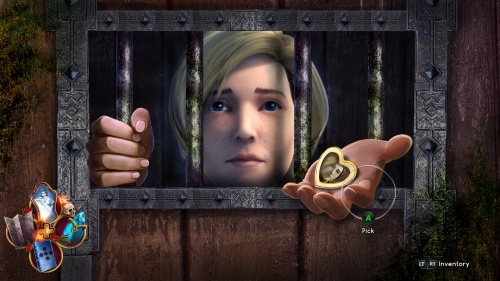 Hoewel de game in drie tot vier uur uit te spelen is en je nergens vast komt te zitten zijn er ook nu weer verschillende moeilijkheidsgraden waarin je zelfs de keuze hebt om puzzels over te slaan. Een uniek element is dat je op enkele momenten keuzes kunt maken die het verhaal moeten beďnvloeden, toch blijkt dit niet het geval. Afgezien van een minimale verandering is de uitkomst van het verhaal altijd gelijk. Verder valt er te noteren dat wat we in het verleden bij meer games hebben gedaan van deze studio. Grafisch maakt de game indruk en het is de studio te prijzen dat alle karakters zijn ingesproken, echter is er nog vooruitgang te boeken in de animaties en lip-syncing.