"Your mother has bad breath and is worthless and goes around murdering people and the communists stalked you." Is het een belediging of een samenraapsel van losse flarden die tezamen een lastig te begrijpen zin maken? Het is een vraag die meermaals boven kwam drijven bij het spelen van Oh… Sir!! The Insult Simulator.
Games zijn regelmatig een toevlucht uit de realiteit. Dit klinkt zwaar en beladen maar is het allerminst. Niemand kan in het echt solistisch een oorlog beslissen of een prinses uit een kasteel redden, en de winnende goal maken in de Champions League is eveneens niet iedereen gegeven. Ook iemand beledigen is in het echte leven niet aan te raden maar vormt geen enkel probleem binnen een game. Ontwikkelaar Vile Monarch heeft er zelfs een gehele titel op gebaseerd waarin we eigenlijk niets anders doen dan degene tegenover ons belachelijk maken.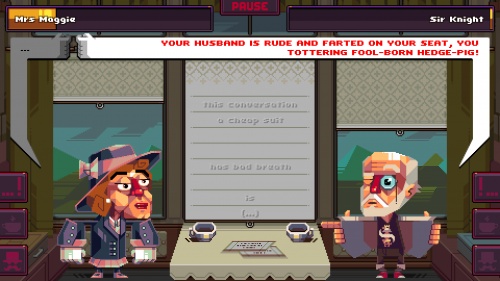 Het doel is om van losse woorden of korte teksten een zin te maken waarmee je degene tegenover je vernedert, al dan niet rekening houdend met diens zwaktes. Je kunt bijvoorbeeld in gaan op hun kleding of familie om je woorden extra kracht bij te zetten en de meter van je tegenstander sneller leeg te laten lopen. De woorden die je kunt gebruiken staan in het midden van het scherm en om beurten kies je het verdere verloop van je op dat moment gevormde zin. Omdat je beiden uit dezelfde woorden kiest kun je een tegenstander ook dwarsbomen door zijn beoogde opvolging aan woorden te stelen. Tevens zijn er enkele bewoordingen die enkel toegankelijk zijn voor de speler en niet door de concurrent gebruikt kunnen worden. Een leuk idee dat al snel tegen zijn eigen limieten aan loopt.

Eén van de problemen is dat de game al snel in herhaling valt. Dan doelen we nog niet eens zozeer op de herhalende gameplay, dit is namelijk makkelijk weg te zetten tegen de paar Euro die je ervoor neer moet leggen. Het probleem zit hem in de bewoordingen die al snel in herhaling vallen. Al na enkele potjes werd duidelijk dat er te weinig variatie is om te blijven verrassen. Ook het scoresysteem is veelal gebaseerd op geluk in plaats van kunde. Het mist simpelweg de intelligentie om een grap te beoordelen, waardoor de meest rare zinsconstructies het qua punten kunnen winnen van slim opgebouwde beledigingen. Dit is jammer omdat enkele achterliggende ideeën wel goed werken. Maak je bijvoorbeeld meermaals een goede belediging met een terugkerend woord dan kun je hier extra punten mee verdienen. Ook de verwijzingen naar Monthy Python zijn grappig en hadden wat mij betreft zelfs nog meer naar voren gebracht mogen worden.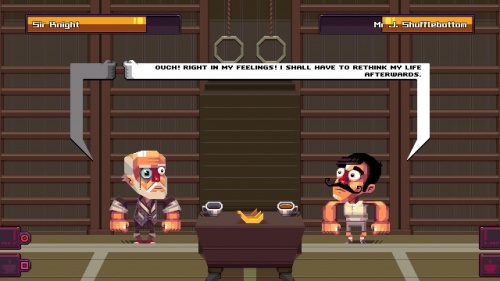 Oh… Sir!! The Insult Simulator is zowel lokaal als online, tegen de computer als tegen vrienden te spelen. Naast losse potjes is er ook een Tournament mode waarin je het uiteindelijk tegen God (die wel heel erg op Morgan Freeman lijkt) op moet nemen. Het is jammer dat de verschillende locaties waarin je speelt, denk aan een dierenwinkel en de hemel, qua context niet zijn doorgetrokken in de teksten. Teksten die overigens ook worden uitgesproken door de karakters, maar omdat deze echter steeds uit losse flarden bestaan die een zin vormen klinkt dit nooit al te vloeiend. Concluderend kunnen we dan ook stellen dat je voor een paar Euro een leuke game in huis haalt die grappig is om eens op te pakken, maar minstens zo snel in de vergetelheid achter blijft. Kennis van de Engelse taal is overigens een vereiste, er is namelijk geen ondersteuning voor de Nederlandse taal. En misschien is dat maar goed ook.