Af en toe experimenteren is altijd leuk voor een ontwikkelteam. Op deze manier kunnen ze even iets compleet anders doen om de zinnen te verzetten, iets wat ook Spike Chunsoft heel leuk leek. Zij transformeerden hun tekstuele avonturengame Danganronpa in een actierijke third person shooter onder de naam Danganronpa Another Episode: Ultra Despair Girls.
Deze game verscheen eigenlijk al enkele jaren geleden op de PlayStation Vita, maar Spike wil hun Danganronpa spellen tegenwoordig wat meer in de kijker plaatsen middels releases op andere platformen die iets populairder zijn dan de PlayStation Vita. Zo zal Danganronpa V3: Killing Harmony komende september tegelijkertijd op de PlayStation 4 en de Vita verschijnen, en lanceerde Spike in maart nog remasters van Danganronpa: Trigger Happy Havoc en Danganronpa 2: Goodbye Despair op de PlayStation 4. Echt verbazend is het dan ook niet dat nu ook Danganronpa Another Episode: Ultra Despair Girls opnieuw is uitgebracht op PC en PlayStation 4. Aangezien het origineel nog maar een drietal jaar oud is, moet je natuurlijk geen grote verschillen verwachten. Another Episode is een simpele port die hier en daar een kleine verbetering heeft ontvangen om de overstap van klein naar een groot scherm beter verteerbaar te maken.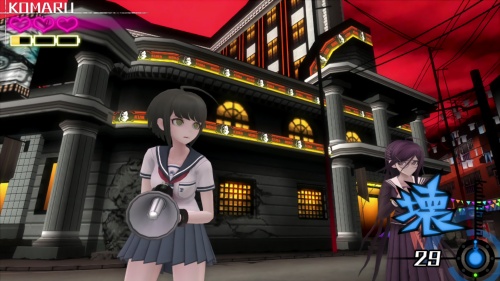 Je moet daarbij niet veronderstellen dat we een grafische update te verwerken krijgen. Another Episode was op de PlayStation Vita al eerder primitief te noemen met simpele karaktermodellen, eindeloos herhalende vijanden – onder andere steeds dezelfde Monokuma robots – en omgevingen die zeer flets leken. Met de overstap is alles wat frisser en wat groter, maar veel meer moet je van deze game niet verwachten. Het is een groot contrast met Danganronpa 1 & 2 Reload waar de animatiestijl dit gebrek van detail kon verbergen. Enkel de tussenfilmpjes weten qua stijl succesvol de overstap te maken. Om de overstap ook beter verteerbaar te maken, werd de user-interface wel opnieuw onder handen genomen, met onder andere vernieuwde camera-opties. Deze camera blijft nog steeds een probleem om de actie vlot te krijgen, maar het beweegt nog te traag waardoor het schieten onhandig aanvoelt.

Dat het schieten niet zo vlot loopt als je zou willen is een belangrijk minpunt in een game die je best kunt beschrijven als een Third Person Shooter, hoewel je ook aan de slag kunt gaan als de onoverwinnelijke Genocide Jack die met haar scharen de vijand van nabij te lijf gaat. Komaru met haar geweer is echter de meer interessante mogelijkheid, onder andere omdat ze nodig is om eenvoudige puzzels op te lossen middels haar geweer. Om voldoende variatie te brengen in het schieten kan dit geweer worden gevuld met verschillende soorten kogels, elk met hun eigen effecten. Er zijn bijvoorbeeld kogels die vijanden doen dansen of kogels die je toelaten vijanden te controleren. Dit geeft je verschillende leuke manieren om de vijand aan te pakken, hoewel er onvoldoende variatie is om genoeg afwisseling te bieden tijdens de twintig uur durende ervaring.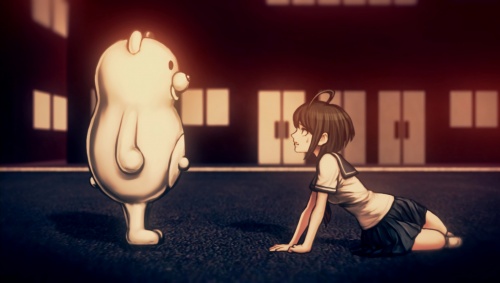 Het is gelukkig niet alleen de gameplay die Ultra Despair Girls tot een succes moet maken. Ook het verhaal speelt een belangrijke rol. Deze verhaallijn bevat de Danganronpa humor met tevens een hele hoop duistere thema's. Dat komt grotendeels door de vijanden, de Warriors of Hope, een groep kinderen die alle volwassenen willen uitmoorden. Protagoniste Komaru – de zus van Trigger Happy Havoc's Makoto – en Toko Fukawa zijn nog geen volwassenen, maar worden wel al per ongeluk een doelwit van de Warriors of Hope. Op zich zorgt het voor een interessant verhaal, maar de game doet vaak uitschijnen dat dit plot een belangrijke rol speelt in de overkoepelende verhaallijn. Ondertussen is echter al gebleken dat Killing Harmony niet verder zal opbouwen op de elementen uit deze game, wat al die hints nutteloos doet aanvoelen.