Het universum van Assassin's Creed Origins wordt uitgebreid met onder meer een roman, een comic miniserie, een artbook en een officiële strategy guide. Al deze publicaties zijn verkrijgbaar vanaf de herfst. Hiermee krijgen fans de kans om de wereld van Assassin's Creed Origins verder te betreden en hun kennis van de game en het universum te verbreden.
Ubisofts verbreding van het universum van Assassin's Creed geeft fans beter inzicht in de vele werelden. Deze publicaties zorgen ervoor dat spelers de ruime wereld van Assassin's Creed Origins nog verder ontdekken. Hierbij horen de jeugd van Bayek, de eerste jaren van de Broederschap, het artwork van de schitterende en mysterieuze landschappen van het Oude Egypte en een officiële handleiding voor de hardcore fans.

Assassin's Creed Origins Desert Oath wordt uitgegeven voor Ubisoft in samenwerking met Penguin Books en geschreven door Oliver Bowden met de hulp van het ontwikkelteam. Als voorloper van de game, vertelt deze roman het verhaal van een jonge Bayek die in de voetstappen van zijn vader treedt en zijn geboorteplaats Siwa achterlaat op zoek naar antwoorden. Volg Bayeks reis die hem langs de Nijl leidt en dwars door een land waar conflict heerst, terwijl hij het hoofd biedt aan de gevaren en raadsels van het pad van de Medjay.

Een miniserie van vier officiële Assassin's Creed Origins comics wordt geschreven door Anne Toole en uitgegeven door Titan Comics. De miniserie gaat over de eerste jaren van de Broederschap. Hierin reist het verhaal naar nieuwe gebieden en worden zowel nieuwe personages als bekende historische figuren geďntroduceerd.

The Art of Assassin's Creed Origins, een artbook uitgegeven door Titan Books, transporteert lezers terug naar het Oude Egypte, een van de meest mysterieuze plekken in onze geschiedenis. Lezers ontdekken de wereld van Assassin's Creed Origins terwijl ze de geheimen en vergeten mythes ervan openbaren. Met deze verzameling kunstwerken, waaronder conceptschetsen, stadsplannen, karakterstudies en schilderijen uit de game met commentaren en aantekeningen van artiesten en ontwikkelaars, leren lezers meer over de personages, vijanden, wapens en elegante panorama's van de game.

The Complete Official Guide is een strategy guide uitgegeven door PRIMA Games en is onmisbaar voor de echte fan. Deze gids bevat onder andere een overzicht van de wapens en de uitrusting uit de game. Ook zit er een 100% completion walkthrough in met gedetailleerde kaarten die alle locaties, verzamelobjecten en doelwitten aangeeft. Eigenaren van deze Complete Official Guide hebben daarnaast ook exclusief toegang tot een elektronische versie voor een second screen-ervaring op hun smartphones.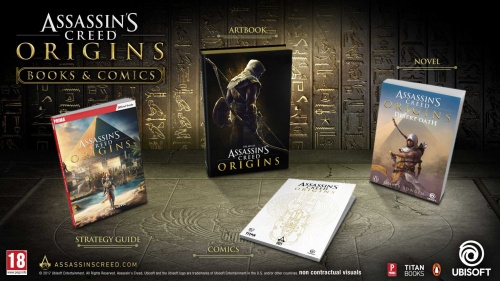 Assassin's Creed: Origins is vanaf 27 oktober verkrijgbaar en vanaf 7 november is de Xbox One X op de markt. Onderstaande beelden zijn afkomstig van dit systeem.