Naast al het grote gamesgeweld toonde Nintendo afgelopen E3 tussen neus en lippen door ook nog een kleinere eShop titel voor de Nintendo Switch. Het gaat om Flip Wars, een titel die eind deze zomer moet verschijnen en een kleine, doch vermakelijke lokale multiplayerervaring moet gaan bieden. Wij sprongen alvast enkele ronden in de rondte.
De premisse van Flip Wars is simpel. Je hebt een speelveld opgebouwd uit losse tegels. Met maximaal drie anderen – zowel echte personen als CPU's – kun je elk één Joy-Con in de hand nemen en hiermee een futuristische astronaut in kleur naar keuze besturen. Wanneer de game start is het de taak van elke speler om vanuit hun startpositie zo snel mogelijk tegels te veroveren. Wie er aan het eind van een ronde de meeste tegels heeft weten te veroveren wint de ronde. Je verovert een tegel door te springen. Bij elke landing veranderen een drietal tegels in de vier windrichtingen in jouw kleur. Gezien je continu door elkaar heen rent is timing van groot belang. Springt een andere speler bijvoorbeeld één seconde na jou op de tegel naast je, dan verlies je direct weer meerdere tegels. Daarnaast kun je met een beetje timing zelfs je tegenspelers van het bord afwippen, waardoor ze weer vanuit hun eigen hoek moeten starten en kostbare tijd verliezen. Het speelveld wordt tevens regelmatig gevuld met diverse power-ups die je bijvoorbeeld sneller maken of een groter bereik geven. Zodoende kan een potje al snel uitlopen in één vrolijke chaos.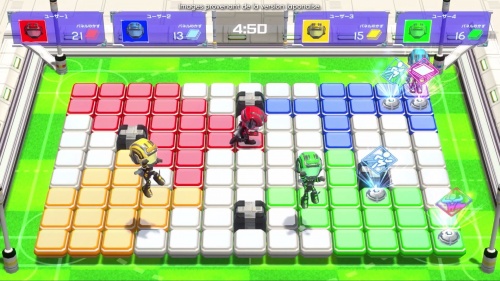 Hoewel ik graag meer zou spelen van Flip Wars is het nog maar de vraag hoelang de titel echt leuk gaat blijven. De game is namelijk niets meer dan hierboven beschreven, waardoor het in feite een uitgebreide mini-game is die in een Mario Party game niet zou misstaan. De grote vraag op dit moment is dan ook de prijs die deze titel zal ontvangen, en of de hoeveelheid content die de prijs kan verantwoorden. De gameplay is echter vermakelijk en geschikt om zowel thuis als onderweg te spelen. In het samenspelen zit de echte lol van deze titel, solo spelend zal de uitdaging – en daarmee het vermaak – van spelen met CPU's snel vervlogen zijn. Het is voorlopig dan ook nog afwachten op meer informatie over zowel de prijs als releasedatum voor deze titel, waarvan eerstgenoemde zal gaan bepalen of deze game een aankoop waard zal zijn.