Evolutie. Het is het mechanisme dat de wereld toeliet om te veranderen van een verlaten wereld in een extreem rijk ecosysteem. Het leidde naar het ontstaan van de mensheid en miljoenen andere soorten, allen aangepast aan hun specifieke omgeving in een proces dat eigenlijk alleen maar als miraculeus kan omschreven worden. De befaamde Will Wright produceerde in het verleden al verscheidene games als Spore en SimEarth met als bedoeling ons dit gevoel te laten nabootsen. Hij krijgt daarin nu opvolging van Harvest Moon bedenker Yasuhiro Wada die hetzelfde tracht te doen met de PC en PlayStation 4 game Birthdays the Beginning.
Birthdays the Beginning plaatst de meest magische gebeurtenis van de wereld centraal: de geboorte van nieuw leven. Als god van een kleine wereld ga jij aan de slag om de omgeving te manipuleren en op deze manier de ideale omstandigheden te creëren om dit nieuwe leven te laten verschijnen. Je gaat dus geen intelligente design doen, maar je gaat bijvoorbeeld de temperatuur verhogen om de evolutie te helpen. De game geeft je een hele serie opties om de natuur te manipuleren. Zo zijn er mogelijkheden om het landschap te manipuleren, kun je items verzamelen die je toelaten rivieren te creëren, en meer. Uiteindelijk is het de bedoeling om microklimaten te ontwerpen middels plaatselijke natuurverschillen, welke de ideale omstandigheden produceren om leven te laten verschijnen. Echt simpel is het dan ook niet, er zijn vele opties om mee rekening te houden en pas na meerdere uren krijg je echt door hoe je nieuwe dieren laat verschijnen zonder de oude te doden.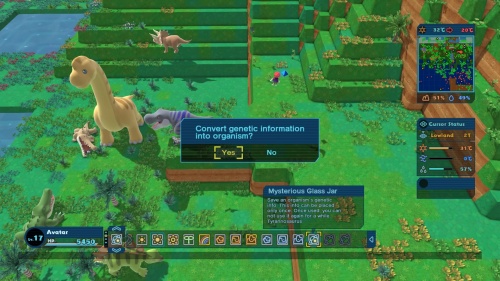 Veel valt er echter niet te beleven met je nieuwe creaties. Je kunt hen scannen om hen toe te voegen aan je encyclopedie, maar voor de rest hebben ze geen ander nut dan simpelweg te bestaan. Als je hoopte dat je een echt ecosysteem zou creëren waarbij carnivoren bijvoorbeeld continu jagen op herbivoren, dan zit je hier goed fout. Het grootste deel van de tijd zijn ze gewoon bezig met wat rond te slenteren, als ze überhaupt kunnen bewegen. Zo kan een vis wel eens verschijnen op het land of kunnen dieren verschijnen op een stukje land dat zo klein is dat ze niet kunnen bewegen. Dit alles heeft geen effect op hun overlevingskansen. Het is een ervaring die je enkel als zen kunt beschouwen. Geen actie, geen geweld, enkel de pret van het verschijnen van nieuwe diersoorten die dan schijnbaar in absolute vrede door het leven gaan.

Als je het echter voldoende vindt om dit leven te produceren, dan heb je daarvoor een drietal grote opties. Je hebt een Story mode die je voert langs een vooraf bepaald pad dat grote gelijkenissen vertoont met de evolutie van de Aarde. Hierbij kom je verder door bepaalde diersoorten te laten verschijnen. Als je dat niet lukt, zit je echter even vast. Daarnaast heb je een laag aantal challenge missies waarin je wordt gevraagd een bepaalde opdracht uit te voeren binnen een tijdslimiet. Dat is echter niet zo interessant, aangezien je dan echt moet opboksen tegen de game die niet altijd zin heeft om snel vooruit te gaan. Als laatste onderdeel is er ook een soort vrije modus waar je alles op jouw manier kunt aanpakken. Hierbij kun je dan ook kiezen op welke grootte en dergelijke je start, zodat er wat meer leven in de game steekt.



Als game is Birthdays the Beginning dus een redelijk diepgaande en strategische ervaring, maar dat zou je niet denken als je de game voor het eerst ziet. Het ontwikkelteam heeft gekozen voor een cartoon-stijl met veel kleurrijke graphics en redelijk gesimplificeerde dieren. Alles ziet er uit als een schattige tekenfilm voor kindjes onder de tien jaar. Verwacht simpelweg niet dat je achtjarige zoon of dochter slim genoeg is om de game onder de knie te krijgen. De eenvoudige stijl zorgt er wel voor dat je heel veel informatie in beeld krijgt zonder dat je bezwijkt onder de visuele drukte. Het is ook niet omdat we spreken van een eenvoudige stijl dat het een lelijke is. De game heeft zeker zijn charmes, hoewel deze technisch niet tot de top behoort zorgt de grafische stijl in combinatie met de rustgevende gameplay voor een geslaagde kalmerende ervaring.