De combinatie van Dragon Quest met de Warriors formule van Omega Force leidde anderhalf jaar geleden tot de opvallend vrolijke en succesvolle titel Dragon Quest Heroes: The World Tree's Woe and The Blight Below. Omega Force mocht meteen beginnen aan het vervolg Dragon Quest Heroes II voor PC, PlayStation 3, PlayStation 4 en PlayStation Vita. Wij voelden de PlayStation 4 versie aan de tand om te kijken of deze versie even fris is als zijn voorganger.
Dragon Quest Heroes: The World Tree's Woe and The Blight Below kon zich destijds onderscheiden tussen de eindeloze stroom Warriors games middels een grote nadruk op het 'Role Playing Game' element dat Dragon Quest met zich mee bracht. Het was nog steeds de bedoeling om honderden vijanden tegelijkertijd te verslaan, maar er was eveneens meer ruimte voor diepgaande systemen zoals een Skill Tree om je vooruitgang te regelen. Omega Force kon hierdoor verbloemen dat het vechten iets eenvoudiger was dan in hun andere Warriors games, onder andere om een jonger doelpubliek te kunnen aanspreken. De schattige Dragon Quest vijanden zijn nu eenmaal populair bij Japanse kinderen en het zou dom zijn die doelgroep af te schrikken Het is daarom ook dat alle spelsystemen heel duidelijk worden uitgelegd. In opvolger Dragon Quest Heroes II zien we geen verandering in deze basisopzet, het is tot niemands verrassing dus nog steeds een Warriors game met Dragon Quest elementen.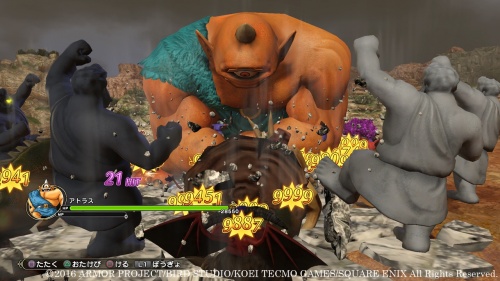 Dit is nog steeds een interessante combinatie die frisser aanvoelt dan traditionelere Warriors games, maar er komt wel wat sleet op de formule. Dit is onder andere te wijten aan een zwak en praktisch onbestaand verhaal en een zwakke uitwerking van enkele vernieuwingen. Eén van die wat zwakkere vernieuwingen is het opentrekken van de wereld. Voorgaande Warriors games werkten op basis van afgesloten arena's maar in deze versie heb je ook tussenstukken waar je gewoon rondloopt zonder dat er vijanden zijn. Er zijn daar wel enkele leuke dingen te beleven, maar al snel gaat dit gewoon aanvoelen als nutteloze filler. Een ander probleem vinden we in de artificiële intelligentie. Gewone monsters negeren je zodat je moeite hebt in echt grootschalige gevechten te komen, terwijl bazen rechtstreeks op jou aflopen zodat je geen strategie kunt uitwerken. Ook je teamgenoten zijn weinig intelligent. Een healer zal bijvoorbeeld af en toe vergeten om jou te genezen. Het zorgt voor een frustratie die het spelen minder prettig maakt dan het zou kunnen zijn.

Sommige vernieuwingen waren echter wel succesvol, zoals de mogelijkheid zelf je party samen te stellen. Dit geeft je meer vrijheid in het bepalen van de type personages die je meeneemt. Aangezien je kunt wisselen tussen deze karakters, heb je nu dus meer keuze over de personages waarmee je speelt. Een andere goede vernieuwing is de uitbreiding van het Monster Coin systeem welke je toelaat vijanden op te roepen als je hun 'muntje' opraapt. In het origineel kon je deze enkel oproepen als assistentie, maar nu kun je zelfs transformeren in enkele grotere vijanden als een Golem. Deze opvolger lost eveneens één opvallende fout van het origineel op. De online coöperatieve multiplayer voor vier spelers die onderdeel uitmaakt van bijna elke Warriors game, is na een afwezigheid in het origineel hier wel present. De matchmaking verloopt zeer moeizaam, maar eens je aan het spelen bent loopt alles vlot, zelfs wanneer er veel vijanden tegelijkertijd op het scherm aanwezig zijn.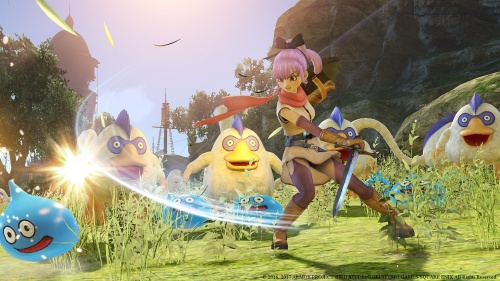 De game speelt natuurlijk in op nostalgische gevoelens met de gigantische cast, een gevoel dat verder versterkt wordt door de animatiestijl. Net als bij het origineel weet Omega Force de typische karakterdesigns van Akira Toriyama op succesvolle wijze over te zetten naar drie dimensies. Men heeft tegelijkertijd grote, diverse omgevingen ontworpen die hier goed bij passen. Leuk is ook dat deze niet simpelweg vlak zijn, je hebt heuveltjes en dergelijke. Het eindresultaat is dan ook een zeer kleurrijke, prettige ervaring waarbij je vrolijk wordt als je het gewoon maar ziet. Het team heeft ook op technisch vlak een sterke prestatie geleverd met onder andere een grote draw distance. Vijanden zijn dan ook lang op voorhand zichtbaar in tegenstelling tot andere Warriors games, waar de plotse pop-up van vijanden wel merkbaar is. Enkel de camera is een stevige teleurstelling op dit gebied, deze werkt namelijk tegen in kleinere ruimtes zodat je vaak onnodig in de problemen komt. Eenzelfde teleurstelling krijgen we van de muziek. Het nostalgische wordt ook geprobeerd met de soundtrack, maar de midi muziekjes komen niet goed naar voren.