In een rap tempo brengt Artifex Mundi hun titels naar de Xbox One. Verscheen Lost Grimoires: Stolen Kingdom afgelopen november op de PC, Android en iOS, daar is de game nu ook verkrijgbaar op de console. Het is alleen jammer dat de kwaliteit van de uitgaven geen stijgende lijn vertoont.
Na een afwezigheid van vijf jaar keert de vrouwelijke protagonist terug naar haar huis. Nadat haar moeder was overleden en haar vader verdwenen besloot ze magie te bestuderen aan de universiteit, maar het is nu tijd om terug te keren naar de meester alchemist die haar onder zijn hoede nam. De thuiskomst is echter allesbehalve wat ze ervan gehoopt had. Het land is onder invloed van een kwade koning en een gemaskerde man dringt haar huis binnen op zoek naar een magisch amulet. Het moge duidelijk zijn dat jij de spil bent in het verhaal dat draait om intriges en familieomstandigheden, hoewel het nergens echt de diepte in gaat. Sommige beweegredenen worden hierdoor nooit duidelijk en aan het einde blijven er enkele vragen open.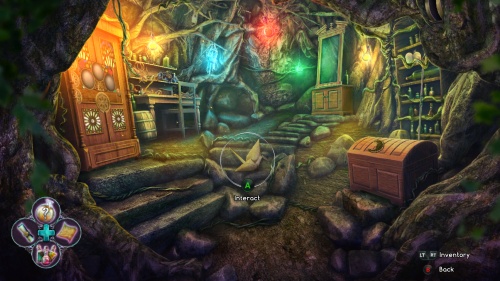 Wanneer je reeds eerder een titel van deze ontwikkelaar heb gespeeld weet je precies wat je te wachten staat. De gameplay is ingedeeld in twee onderdelen; het spelen van mini-games en het vinden van een lijst met voorwerpen binnen een stilstaande setting. Bij de mini-games ben je voornamelijk gekleurde bollen in een juiste volgorde aan het zetten of draaien en verder vergaar je ingrediënten die je nodig hebt om het verhaal mee te vervolgen. Het maken van deze drankjes past prima binnen de setting van alchemie en is een leuke afwisseling op de vorige games. Toch onderstreept de ontwikkelaar ook hier de toegankelijkheid, het is namelijk niet mogelijk om verkeerde drankjes te maken en je kunt altijd hints opvragen als je vast komt te zitten. Een pluspunt aangezien het hierdoor voor ieder speelbaar is.

We gaven bij de inleiding al aan dat er geen stijgende lijn in kwaliteit waarneembaar is. Deels komt dit omdat de ontwikkelaar nauwelijks weet te vernieuwen op de eerder ingegane weg. Afgezien van de hierboven benoemde drankjes is de gameplay een kopie van diens vorige games. Ze doen zelfs een stapje terug door gamers geen mogelijkheid te geven om mini-games te vervangen door bijvoorbeeld Mahjong, Matching of Domino. Niet dat dit nu de sterkste elementen waren van voorgaande titels, maar het compleet achterwege laten is dan een gemakzuchtige oplossing. Verder is er ditmaal geen bonushoofdstuk zoals andere games dit wel hadden. Kregen we bij Grim Legends: The Forsaken Bride nog een vervolg na het hoofdavontuur en bij Enigmatis 2: The Mists of Ravenwood een verdere karakterverdieping, daar is dit nu geheel afwezig.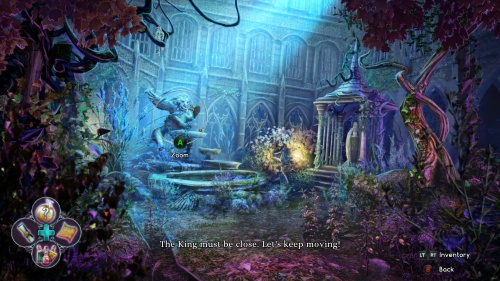 Dit alles maakt Lost Grimoires: Stolen Kingdom geen slechte game, maar wel een mindere game in vergelijking met zijn voorgangers. Gelukkig leveren ze qua graphics niets in en hebben we ook nu te maken met schitterende plaatjes en excentrieke karakters. Dat sommige gezichtsanimaties wat onnatuurlijk over komen en de voice-acting van wisselende kwaliteit zijn is iets wat de ontwikkelaar zich aan mag rekenen en waar meer aandacht naar uit mag gaan. De muziek zelf is wat dat betreft beter verzorgd, toch moge duidelijk zijn dat Artifex Mundi betere titels voort heeft gebracht.