Hiep Hiep Hoera! The Division is één jaar geworden en bij een verjaardag hoort uiteraard een feestje. Cadeaus hoef je niet te kopen, deze worden namelijk gratis weggegeven.
Onderstaand plaatje geeft namelijk aan wat spelers gratis zullen ontvangen.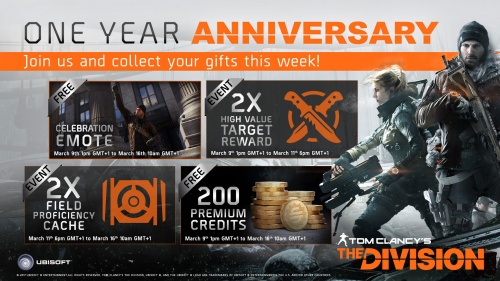 Ook in de toekomst blijft Ubisoft het spel ondersteunen. Hoewel we nog moeten wachten op de tweede uitbreiding geven ze al wel aan dat het 'more content-focused' is, hoewel hiermee niet gezegd is dat verhalende missies onderdeel vormen van het pakket.

quote:

---

"Story missions are tricky, but that doesn't mean we won't have narrative content. We can't really deliver story missions that will fit into the RPG aspects of the game in a simple way. So we're not going to be doing the classic main mission type of thing, but narrative content is something that we are definitely looking at."

---

Op de vraag of de level cap omhoog zal gaan of de map zal worden vergroot laat Ubisoft weten dat het ontwikkelteam nog altijd dingen onderzoekt. Wel benadrukken ze dat de Year 2 content geen betaalde uitbreiding is en dat het de de manier zal veranderen waarop het spel gespeeld zal worden.

De gehele blog kan hier worden nagelezen.