Koning Vreemdbal. Sommige titels laten zich blijkbaar niet zo goed vertalen naar het Nederlands. Net zoals Boze Vogels ook een stuk minder imponerend klinkt dan Angry Birds. En daarmee heb ik meteen een bruggetje gemaakt tussen beide games.
Na het succes van Angry Birds zagen we vele ontwikkelaars soortgelijke titels creëren. 10Tons is één van deze studio's. Zij brachten hun game King Oddball oorspronkelijk in 2012 uit, waarna de game zich als een olievlek over diverse platformen uitspreidde. Dat het overduidelijk draait om de gameplay blijkt wel uit het flinterdunne verhaal. Een koning, bestaande uit een steen in de lucht (Koning Vreemdbal, weet je nog…) ziet zijn gebied ingevallen worden door het leger en ander gespuis. Hij trekt ten strijde om af te rekenen met deze troepen, de manier waarop je dit doet is niet echt alledaags te noemen.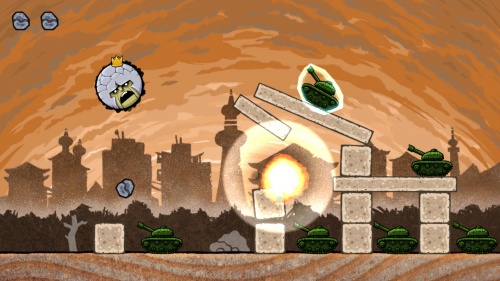 Je opent de aanval op de soldaten, tanks, helikopters en zelfs zombies door er stenen op af te werpen. Stenen die de koning met zijn lange tong vastpakt en je op een willekeurig moment los laat terwijl ze van links naar rechts zwiepen. In tegenstelling tot Angry Birds staat alles binnen één scherm en is de positie van waaruit je gooit niet vastgesteld. Soms staat de koning bijvoorbeeld links bovenin het scherm, een ander moment in het midden of juist rechts. Tevens krijg je in King Oddball geen ranking, afrekenen met de militaire troepen is voldoende. Je krijgt hiervoor meestal drie stenen, mocht het je lukken om een steen weer opnieuw op te pikken dan kun je deze nogmaals gebruiken en tevens krijg je een extra steen als je drie doelen weet te raken.

Om het allemaal iets spannender te maken zijn er explosieve kratten en enkele variaties in de gameplay. In de One Rock Challenge heb je bijvoorbeeld slechts één steen tot je beschikking om een level te voltooien en in de Boom Challenge werp je granaten en moet je slim gebruik maken van diens ontploffingskracht om iedereen op te ruimen. In totaal zijn er honderdtwintig levels die dit concept herhalen en dat werkt prima op je mobiele telefoon of PlayStation Vita. De ontwikkelaar heeft het spel hiernaast ook op de PC, Xbox One en PlayStation 4 uitgebracht, alwaar de game een stuk minder schittert. Het repetitieve aspect valt hier sneller op, iets wat niet alleen voor de gameplay te noteren valt.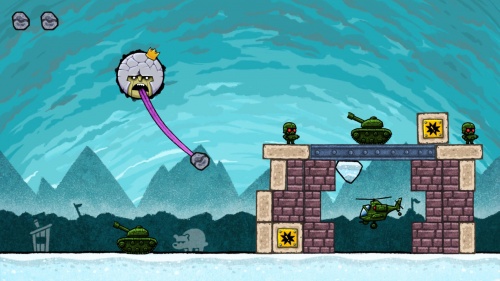 De minieme geluidjes en de soundtrack zullen je in eerste instantie niet irriteren. Sterker nog, ze klinken redelijk aanstekelijk. Het probleem is echter dat ze zich al snel blijven herhalen en dan begint deze irritatie wel toe te slaan. Ook het gelijkende thema in termen van graphics helpt de game niet. Afgezien van een ander kleurenpalet bij de latere levels zien de levels er vrijwel identiek uit in termen van opbouw. Het zorgt ervoor dat King Oddball prima speelbaar is in korte secties, met name op draagbare systemen. Voor je thuissystemen is het minder geschikt, of je moet het willen combineren met een andere game. Door af en toe enkele leveltjes als tussendoortje te beschouwen vallen de minpunten minder op en kunnen we het de ontwikkelaar zelfs vergeven dat ze wel heel erg leentjebuur hebben gespeeld bij hun genregenoten.