Voorafgaand aan de vijfde episode van Minecraft: Story Mode was het vooral de vraag hoe Telltale het verhaal zou vervolgen. Immers, in de vierde episode – A Block and A Hard Place – werkten ze reeds naar een einde toe dat nog weinig over leek te houden voor een vervolg. Order Up! is dan ook vooral te zien als een nieuw begin.
Het gevoel van deze vijfde episode is ietwat tweeledig. Telltale lijkt vooral het doel te hebben gehad om een brug te vormen tussen de eerste vier episodes en het recentelijk aangekondigde drieluik van geheel nieuwe avonturen. Ze doen dit middels een verhaal dat weliswaar raakvlakken heeft met het eerdere avontuur, maar tegelijkertijd een startpunt vormt voor aankomende gebeurtenissen. Gamers die eerder een Season Pass hebben aangeschaft kunnen zich hierdoor bekocht voelen. Toch is de vijfde episode op zichzelf helemaal niet slecht. Het is prima speelbaar, terwijl het tegelijkertijd voldoende open laat om de aanschaf van de nog te verschijnen episodes te rechtvaardigen.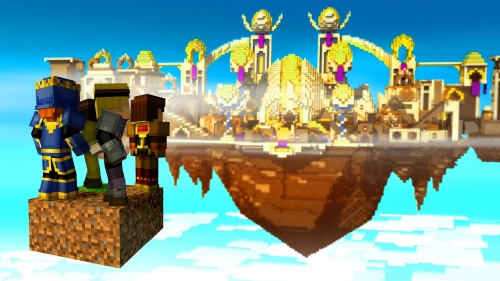 In Order Up! lijkt de groep het vertrouwen gevonden te hebben in hun rol als de Order of the Stone. Ze hebben een fanclub, noemen zichzelf redders van de wereld en trekken erop uit om loot te vergaren. Een duidelijke breuk in vergelijking met eerdere episodes, echter is niet iedereen even blij met deze statussen. Het avontuur compleet voor je uitrollen staat gelijk aan het weggeven van spoilers, maar we kunnen wel zeggen dat je zowel oude bekenden als nieuwe gezichten tegen zult komen binnen geheel nieuwe omgevingen. De ontwikkelaar doet hierbij grotendeels een beroep op gameplay die we reeds leerden kennen, gepaard met humor waar de serie om bekend staat. Na een ietwat rustig begin neemt de snelheid al snel toe en uiteindelijk zul je er ongeveer anderhalf tot twee uur zoet mee zijn. Een tijd waarin je enkele moeilijke keuzes moet maken.

Telltale staat naast haar verhaalvertelling van bekende franchises ook bekend om een ander punt, en dat is dat ze op technisch vlak vaak steken laten vallen. Ook nu is dit waarneembaar. Hoewel de omgevingen waar je in terecht komt indruk maken is de technische implementatie een stuk minder indrukwekkend. Animaties en geluiden lijken veelal een eigen wil te hebben die in strijd zijn met de ander en er was ook een moment waarop mijn Quick-Time handelingen niet werden geregistreerd.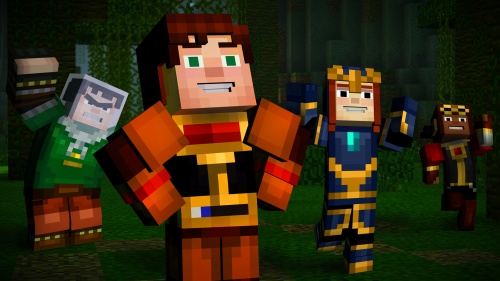 Order Up! is vooral een opzetje naar wat komen gaat. Niet gek gezien de aankondiging van drie aankomende episodes, wel een smet voor gamers die een conclusie hadden verwacht. In plaats daarvan werpt Telltale voldoende mysterie op, waardoor je toch weer benieuwt bent naar wat komen gaat. Het is aan jezelf om te bepalen of je dit als een irritatie of een compliment moet zien. Aan de verhalende kwaliteit ligt het in ieder geval niet, heb je van eerdere episodes genoten, dan zul je ook nu met een grote glimlach zitten.